Pro Football Focus gives Justin Simmons a disrespectful ranking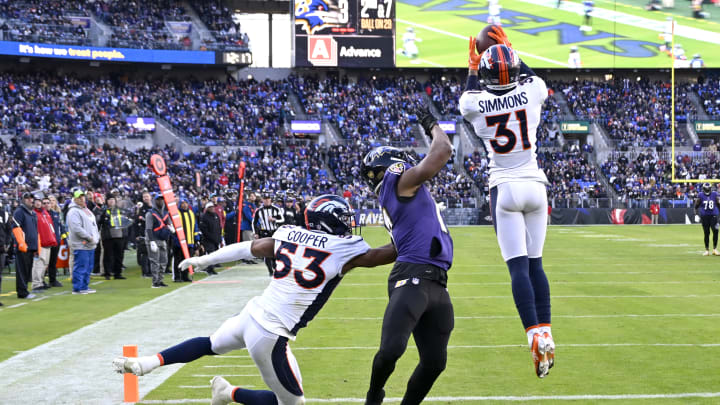 Justin Simmons / Greg Fiume/GettyImages
Dalton Wasserman from Pro Football Focus was in charge of writing their Top 32 Safeties heading into the 2023 season. Justin Simmons is the only Denver Broncos' safety mentioned in the article, no Kareem Jackson and no Caden Sterns ranked among the best 32 safeties.
For Wasserman, the top 10 safeties going into the 2023 season are:
1. Derwin James, Chargers
2. Minkah Fitzpatrick, Steelers
3. Kevin Byard, Titans
4. Antoine Winfield Jr., Buccaneers
5. Micah Hyde, Bills
6. Justin Simmons, Broncos
7. Tyrann Mathieu, Saints
8. Jordan Poyer, Bills
9. Jessie Bates III, Falcons
10. Jevon Holland, Dolphins
It has not been an easy ride for Justin, as he enters his eighth season in Denver with a different head coach for the fifth time. In this article, Wasserman mentions the following regarding Justin Simmons ...
""Simmons endured an injury-plagued and inconsistent 2022. He tied for the league lead with six interceptions and still flashed high-end play (see: 92.5 grade vs. Baltimore). He also had four separate games with overall grades below 50.0. Denver's secondary is still its best unit, and Simmons is the leader of that group. His strong track record keeps him high on this list, though we may not see a repeat of his elite 2019 performance (90.7 overall grade).""

- Dalton Wasserman, Pro Football Focus
I think that Simmons should definitely be ranked above the sixth-best safety. He is a true leader in the secondary for Denver, and despite leading the league in interceptions (tie) during the 2022-23 season, he had some bad games. Justin has shown over the years that he can be the anchor of the Denver Broncos secondary, a team captain, and a team leader.
Simmons was tied for the interceptions title despite missing a few games, but can he be a First-Team All-Pro for the first time this year? He has just been a Second-Team All-Pro thus far, but can he be a top 3 safety again?
Can Caden Sterns and/or Kareem Jackson be top 32 safeties, and join Justin Simmons on the list? We still do not know who the other starting safety will be next to Justin, but expectations are that it will be Sterns and that Jackson will have more of a veteran/supporting role, but who knows?
Is division rival safety Derwin James really better than Justin Simmons?