Denver Broncos tier one free agents to build the 2022 roster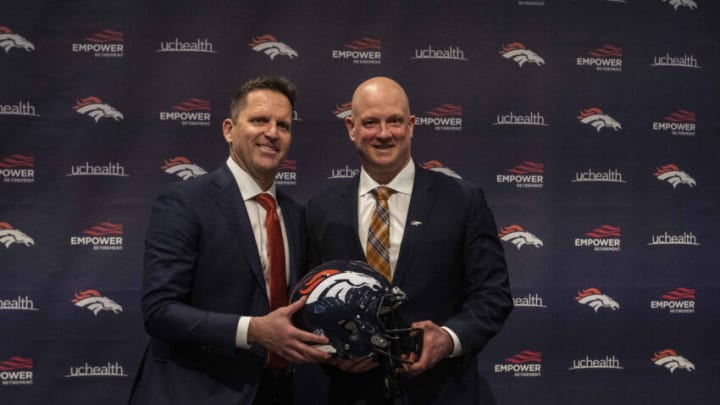 Jan 28, 2022; Englewood, CO, USA; Denver Broncos GM George Paton with Nathaniel Hackett after announcing him as the club's head coach at a press conference at UC Health Training Center. Mandatory Credit: John Leyba-USA TODAY Sports /
Many of us like to believe we would make the best decisions possible in regards to making the Denver Broncos relevant again, so let's put our General Manager caps on and give this a shot.
If you are reading this, you think you can make the Denver Broncos great again.
No worries, you are not the only one! Putting Broncos Country's knowledge to the test here, I have been pondering on how I could give all of the social media GMs a chance to hypothetically build the perfect offseason for the Denver Broncos, and here is what I got.
Just a little foresight, this will be a series of articles on filling out the Denver Broncos roster. Here's the trick, Broncos Country will be deciding the outcome of these potential outcomes based on the comment section and comments that come through all social media sites.
All commenters are allowed just one single vote per tier, so if you decide to roll with Von Miller, no you cannot comment Von Miller 100 times until he is the leader in votes.
Basically, how this will be done, I will provide a list of potential free-agent acquisitions, from tier 1-3, at positions of need for the Denver Broncos. Tier one will obviously be the top-notch guys who are expected to be signing mega deals and are expected to play pivotal roles in the Denver Broncos' success.
After tier one, there will be a tier two and three, followed by more articles based upon the first few rounds of the NFL Draft. From each tier, there will be the top two vote recipients. In article two, I will reveal the top two vote recipients and start two hypothetical offseasons and how they could play out for the Denver Broncos.
Focusing mainly on the quarterback, edge, inside linebackers, tackles, and cornerback rooms, you will have eight total players to add to the Denver Broncos, three tiers of free agents and the five premiere picks in the first three rounds of the NFL Draft. So remember, there will be alternative options when looking ahead if you don't get the guy you voted for, so plan wisely.
If you have any questions about how this is done, hop into the comment section, or shoot me a personal DM on Twitter, and I will go into further detail. Once the two columns are completed, we will have a final vote and see which side brings out the most competitive roster for the Denver Broncos in 2022.
We will look at five position groups, so I will provide at least five potential tier players to snag in every article. There will be two players selected after I tally the votes, then tier two will come shortly after.
With all of these scenarios, there will not be any trade requests. That may cause some confusion and would deter you from this exercise.
Remember, the goal here is to fill all of the holes within the Denver Broncos roster to where there are not many glaring holes heading into the season. Alright social media GMs, it's time to build the Denver Broncos roster!
Denver Broncos FA targets, Tier One:
J.C. Jackson
Chandler Jones
Terron Armstead
One thing to note here, there are two pass rushers in tier one. There is a chance each tier may have two players at the same position if that is how it pans out, with the tier one guys, the free agency looks to be tilted towards the top right now.
Wide receiver and outside linebackers are dominating the potential list of big contracts, so that is why both Von Miller and Chandler Jones fall under tier one. We will leave the poll open until Saturday night, 10 pm eastern.
Once I tally all the votes, I will announce the winners via article two. Starting two separate teams, I encourage you to remember that this team will be built in a fair manner and there will be levels to it and will not include any unrealistic scenarios.
Vote away, Broncos Country!