Denver Broncos have tough decision in 2020 with Garett Bolles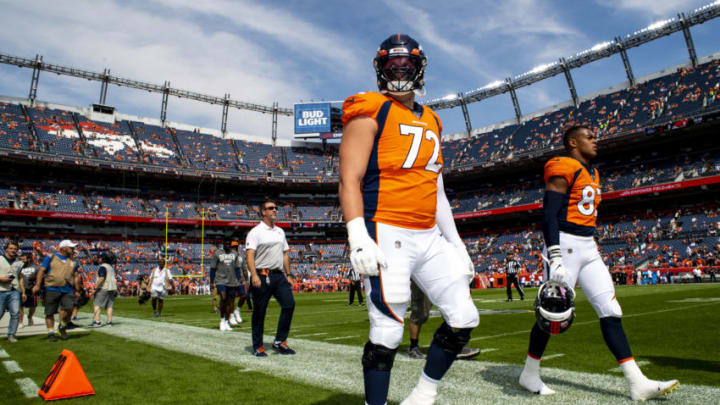 DENVER, CO - SEPTEMBER 15: Garett Bolles #72 of the Denver Broncos walks off the field prior to taking on the Chicago Bears at Empower Field at Mile High on September 15, 2019 in Denver, Colorado. (Photo by Timothy Nwachukwu/Getty Images) /
The Denver Broncos have certainly stuck with Garett Bolles through his ups and downs, but has he played well enough to be the LT in 2020?
The development of former first-round pick Garett Bolles has been slow.
For many, it's been far too slow.
Many fans in Broncos Country have lost patience for the 2017 first-round pick out of Utah, who is three games away from finishing his third season as the starting left tackle in Denver.
Bolles hasn't been a model of consistency, nor has he been a model of great technique at the left tackle position. It's one reason why he's been flagged for 12 holding penalties this year alone (5 accepted) and a couple of false starts and a block in the back against the Houston Texans which wiped a touchdown off the board.
Bolles, like fellow 2017 draftee Ryan Ramczyk, was coming off of one year of experience at a Power-five college when he entered the NFL Draft as an underclassman, and the Broncos were truthfully desperate for a left tackle at the time.
Up to this point, Ramczyk has vastly out-played Bolles with the New Orleans Saints, and New Orleans will have no problem taking on his fifth-year rookie option this offseason.
For the Broncos, that's a different story.
Although Ramczyk has been a star for the Saints and Bolles has not for the Broncos, Bolles' penalties represent 1.8 percent of his offensive snaps this year, so there are a lot of other plays to evaluate in the grand scheme of things.
It speaks volumes that the Broncos have not done really anything to take Bolles out of the mix, although John Elway did state earlier this year that the excessive holding penalties had to stop.
The Broncos hired Mike Munchak this offseason to develop the offensive linemen in-house, and that would obviously include Bolles. The Broncos also knew that it likely would take more than just 13 games and an offseason for Munchak to work his magic, and since Joe Flacco has been injured, it's not a coincidence that Bolles' play has significantly improved.
Not to mention, you have Mike Klis, the guy with the most direct source to the team possible, defending Bolles publicly, which speaks volumes.
That is a great point by Joe to point that out, and it's probably safe to assume you shouldn't be writing Tristan Wirfs or Andrew Thomas in pen in your Broncos mock drafts just yet.
The big question coming in the 2020 offseason for the Broncos is whether or not they should pay the $9-10 million in 2021 for Bolles, guaranteed for injury, on his fifth-year rookie option.
Other than his block-in-the-back penalty against the Texans which proved (thankfully) to be inconsequential, Bolles played extremely well vs. Houston. He's also done a pretty darn good job over the course of the last month in general, and after nine holding penalties through the Broncos' first seven weeks, he has three holding penalties in the last six games, only one accepted.
Is Munchak's coaching starting to take hold (pun fully intended)? Is Bolles turning a corner?
Perhaps the most staggering stat of the season is the 0 sacks Lock took in his rookie starting debut, in which he faced off against a Chargers defense that had no reason to respect the pass and sent blitz after blitz.
Lock's uniform would have been spotless after that game had it not been for a couple of nice scrambles in which he slid to avoid contact.
The 2020 NFL Draft has a lot of really good-looking young offensive tackles. The Broncos have five top 100 picks. At this point in time, the wise move would be to use one of those on the tackle position to avoid any sort of real dropoff if (or when) injuries happen like they did this year with Ja'Wuan James.
We explored the option of waiting for a tackle until round three of the 2020 NFL Draft, and depending on how the board falls, there's merit to that idea.
The way Bolles has played lately, the Broncos may avoid forcing themselves into a position to have to take a tackle in the first round of the 2020 NFL Draft and bank on Bolles continuing to develop under Munchak going forward.
That may not be the answer many fans want, but the Broncos invested a first-round pick in Bolles and they have little to gain by just cutting him loose after this season. He's cost-effective for another year, and even giving him the fifth-year option is somewhat of a low-risk move as $9-10 million is well under market value for the average starting tackle in the NFL.
The Broncos should keep their options open with Bolles and look into drafting someone in the top 100 picks at the tackle position, but they certainly don't have to lock in on anyone with their top choice.