Denver Broncos Fanzone: Interview with Britt Cormack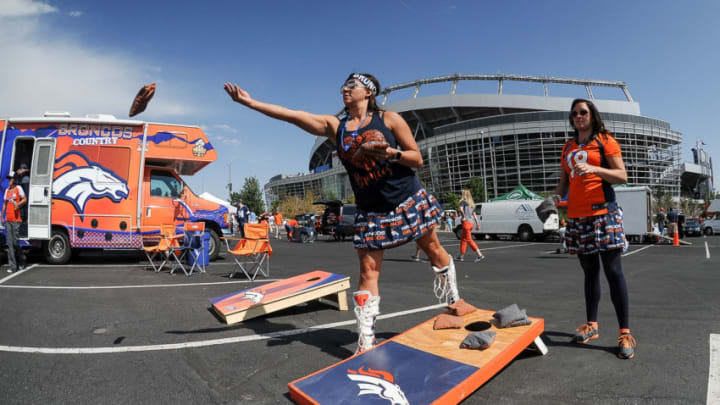 DENVER, CO - SEPTEMBER 17: Denver Broncos fans play a game before the Denver Broncos play against the Dallas Cowboys at Sports Authority Field at Mile High on September 17, 2017 in Denver, Colorado. (Photo by Dustin Bradford/Getty Images) /
In our next edition of the Denver Broncos Fanzone, I interview Broncos fan Britt Cormack and get her takes on the Broncos season.
The Denver Broncos travel to Washington to take on their final NFC opponent of the season, the Redskins. This will be a good opportunity to see Kirk Cousins in a game and see if he could be the quarterback of the future for the Denver Broncos.
This season could not have gone any worse for the Broncos. But they get these final two games to showcase some optimism, if any, for the 2018 season. There is no doubt this team will look different next season.
But there is still some positive vibes going around Broncos Country despite the season. The next guest on the Fanzone has been nothing but positive from our discussions this week.
Britt Cormack is a Denver Broncos fan. She has been very positive about the entire season, despite what we have seen. It only gets better from here, right? Let's take a look and see what Britt had to say this week in regards to the Broncos and on Sunday's game.
The Denver Broncos won their second game in a row. What impressed you the most from that game?
I am so impressed that this team is actually so bad, they don't even know when they are supposed to lose! *laughs* Kidding (mostly). Actually, Booker's hurdle and run to the end zone were great, sucks that it didn't count. But that's sort of how everyone feels about the NFL right now, right?
I just love seeing my team play with heart and a fun play like that, we need more of that enthusiasm.
Brock Osweiler came into the game and got the win. With Trevor Siemian going on IR, do you think Osweiler gives us a chance to win our final two games if he starts both?
I have feelings about Brock. We keep forgetting that we wouldn't have gotten to Super Bowl 50 without him, you know? He's not THAT BAD- we just like to have a complaint. I thought he looked great against the Colts- throwing darts. Does that mean we win the next two games?
Consistency is not something we can expect from Brock, we know that. But we can't expect it from the team as a whole. All year we toss around this quarterback conundrum, but it is the whole team. Everyone has to want it and they have to play as a team like they want it.
As a Denver Broncos fan, what is your favorite memory of all time?
Chargers game on January 3rd, 2016- I went to the game sick as hell. Throwing up at the tailgate and in the stadium and everyone kept saying I should go home. *laughs* But I knew Manning was going to come back. I just knew it and I wasn't going to leave.
Sure enough, I went to concessions to get a Sprite and heard this enormous ROAR. The stadium shook, Manning was back! The electricity of that time, that game, that team. I ended up getting my burst appendix removed that night. But man, so worth it.
The Broncos take on the Washington Redskins on Christmas Eve. What do you think the team needs to do in order to get another win?
What do they need to win? A Christmas Miracle! *laughs* That's tough. On the road, it comes back to consistency you know? I don't know if we have another road win in us this year. I want to believe and maybe this new burst of energy carries us. But regardless, it's going to be fun to see Cousins playing against the Broncos with all the speculation that he might play with us next year!
Which player on the Broncos roster has impressed you the most?
I am continually impressed by Von [Miller] and the defense in general. They really have carried so much weight this year and Miller keeps showing up. [Devontae] Booker more recently- like I mentioned before, he really does seem to hit the field and play with heart and I love it.
Next: Broncos vs. Redskins Preview
That's a hard attitude to maintain once you're on the dark side of our current record and we do have players who are unwilling to give up. For that matter- I am impressed with the true fan base as well. Can your fan base count as a team player? Hell yeah it can!
It certainly can Britt! Thank You so much for taking the time out to chat with me. Go Broncos!