Denver Broncos' head coach aggressiveness a teaser for free agency?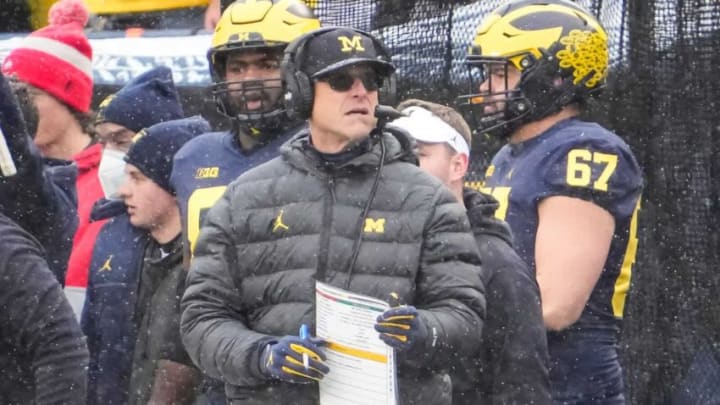 Denver Broncos - Michigan Wolverines head coach Jim Harbaugh stands on the sideline during the NCAA football game at Michigan Stadium in Ann Arbor on Monday, Nov. 29, 2021.Ohio State Buckeyes At Michigan Wolverines /
The Denver Broncos have been in the news quite a bit with their coming head coaching search, and this aggressiveness could spill into free agency.  This past weekend has given quite the indication that the Broncos will indeed be super aggressive with their head coaching search.
However, I don't expect that aggressiveness to stop.
Let's break this down.
Broncos aggressiveness now will spill into free agency
We've heard quite a bit that the team will take a "big swing" on trying to land a head coach this offseason.  As we all know, the big swing has been connected to both Jim Harbaugh and Sean Payton, two Hall of Fame level coaches.
Firstly, if the team were to hire either Payton or Harbaugh, there's a very good chance that the team would instantly become a playoff caliber team, right?  Payton and Harbaugh have been to their respective playoffs more times than they haven't, so why would that stop if they arrived in Denver.
Next, their both a bit on the older side.  Sean Payton and Jim Harbaugh are both 59 years old.  That isn't young, so why would the Broncos not be super aggressive in free agency in trying to retool this roster to get to where they want to be?
Thirdly, who knows how long either will end up being the coach in Denver.  Sean Payton abruptly stepped away from his role in New Orleans, and Harbaugh hasn't stayed at one spot as a head coach for a particularly long time.
There's also something more on the side of Denver that makes me think they are set to be hyper aggressive in free agency, like they're being now.
Not only has the team secured an interview with Jim Harbaugh for the vacant head coaching spot, but they've also requested and received permission from the New Orleans Saints to interview Sean Payton.
Furthermore, the Broncos and Saints appear to be on the same page in terms of compensation to acquire Payton, as his contractual rights are owned by the Saints.  As we've heard, the asking price is likely going to be at least a first round pick, and this, to me, indicates the most that Denver will be insanely aggressive in free agency.
We all know how much George Paton values the NFL draft.  He's spoken on this before and has had a solid track record in the draft since taking over as GM of the Broncos.
So, one would think that Paton would back off at the idea of trading yet another first round pick to try and improve the team, right?  He's already traded two of them to acquire Russell Wilson.  Now, could a third be traded?
To me, CEO Greg Penner has likely slammed an iron fist on the desk of George Paton and has told him to get this operation fixed, by any means necessary, and if Denver does indeed trade a first round pick for Sean Payton, they won't pick until the beginning of the third round.
This would then mean that the team would have to work harder in free agency to fill the remaining holes of the roster, which could lead to the Broncos themselves being hyper aggressive in free agency.