Recent news could make Jim Harbaugh closer to coming to the Broncos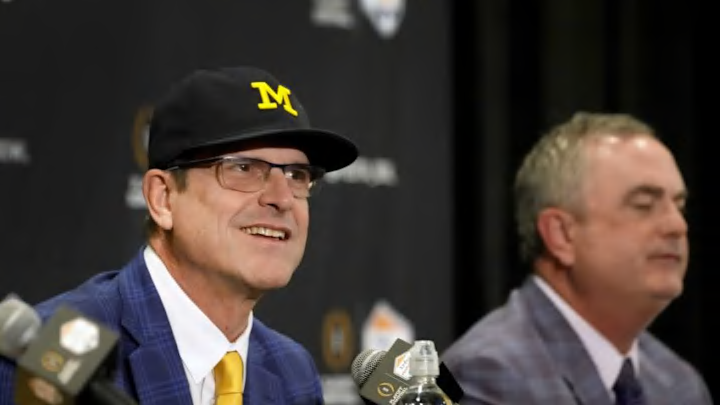 Michigan Wolverines head coach Jim Harbaugh answers a question from the press during the Vrbo Fiesta Bowl news conference at Camelback Inn in Scottsdale on Dec. 30, 2022.Ncaa Football Vrbo Fiesta Bowl Media Day /
The Denver Broncos and Michigan head coach Jim Harbaugh could soon be a marriage.
The Broncos have reportedly already reached out to the former NFL head coach and quarterback about their open coaching position and rumors persist every offseason that Jim Harbaugh will rejoin the professional ranks.
But recent news, albeit bad news, could have Harbaugh on the fast track to doing just that.
Despite leading the Wolverines to the College Football Playoff in back-to-back seasons, the NCAA is alleging violations against Harbaugh and the Michigan football program.
There are reportedly several level II violations that are being looked into but also one level I violation, which could be a big problem in terms of penalties and fines. Though the university can likely give Harbaugh whatever he wants in terms of salary, he may not be looking to stick around depending on what the penalties could end up being.
It does seem inevitable that Harbaugh will come back to the NFL at some point in time. While he is getting a chance to coach at his alma mater, the lure of winning a Super Bowl, which he reached in 2012, is always going to be there.
Harbaugh was a good coach with the San Francisco 49ers as well and his departure from there always seemed a bit weird and definitely not warranted, the organization just wanted to move in a different direction.
Currently, the Broncos have the only vacancy at the head coaching spot but there will be others after this week, the final week of the regular season, including the Indianapolis Colts. However, the Broncos could be the frontrunners to land Harbaugh due to the fact that the team's ownership is will be willing to meet whatever his contract demands are, in all likelihood.
If these allegations prove true for Harbaugh, his days at Michigan could certainly be numbered and though it would likely be his call to leave, he knows he has open arms waiting for him.