Why the Denver Broncos should splurge in 2023 free agency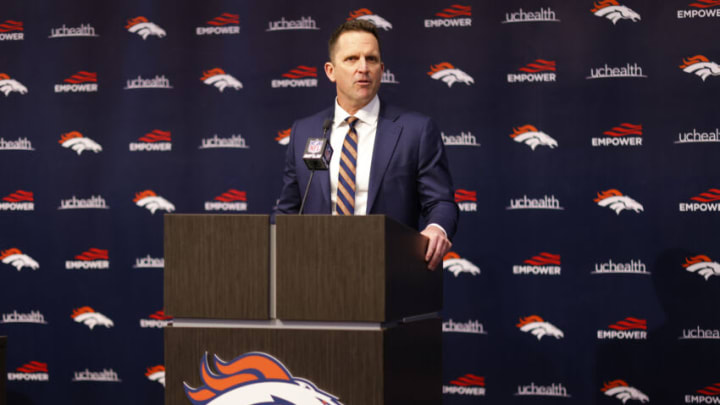 ENGLEWOOD, CO - MARCH 16: General Manager George Paton of the Denver Broncos addresses the media before introducing Quarterback Russell Wilson of the Denver Broncos at UCHealth Training Center on March 16, 2022 in Englewood, Colorado. (Photo by Justin Edmonds/Getty Images) /
The 2023 offseason for the Denver Broncos is set to be one of the most important in team history, so any move made must be strongly calculated.  What the Broncos will do this coming offseason will be of the highest importance for the future viability of the franchise.
A once-winning franchise with strong leadership and quarterback play has crumbled into a shell of its former self.  The team is totally irrelevant and has been since 2016.  The quarterback situation has not been viable since 2014 and the future of the franchise appears to rest on the shoulders of the 2023 offseason.
When Greg Penner and George Paton spoke to the media the day after the team fired Nathaniel Hackett, the anger and urgency from both men's voices was palpable.  It was also reported that the next head coach of the team would perhaps be more empowered than Hackett was and that, according to Penner, the next head coach would report directly to him.
Already, changes have been made, and George Paton's duties and responsibilities as the general manager appear to have been reigned in.  However, the team clearly desires immediate success, and this is further evidenced by the extension that the team signed Russell Wilson to.
The Broncos, in their current state, are not looking ahead to the 2024 or 2025 season when the "rebuild" is complete.  For example, take a look at the Chicago Bears.  They are effectively in year one of a rebuild and need to fill their roster with more talent in order to become a viable team again.
I'd guess that the Bears' front office recognizes that the team probably won't be "finished" with their rebuild until 2024, as they are likely relying on a plethora of draft picks, free agency signings, and Justin Fields to hit their strides.
The Broncos are in a totally different boat.  The boat that they are in is similar to what the Los Angeles Rams have done the past few offseasons.  The Rams have clearly put all their chips into the "win now" basket.
They took big risks in free agency, traded away their draft capital to try and acquire players who could make an immediate impact, and it ended with them winning the Super Bowl in 2021.
The Broncos need to take this same mindset and splurge in free agency.  I think they need to turn over every single stone and attempt to make numerous high quality free agent signings to get the team back into relevancy.
They also need to do this because Russell Wilson is 34 and not 26.  They don't have a ton of time with Wilson under center, and if he does return to his old self and begins to play better, they won't have him for 10 years.
The Broncos need to hit the 2023 offseason with a huge sense of urgency and splurge in free agency.