Denver Broncos need to start their 2023 offseason checklist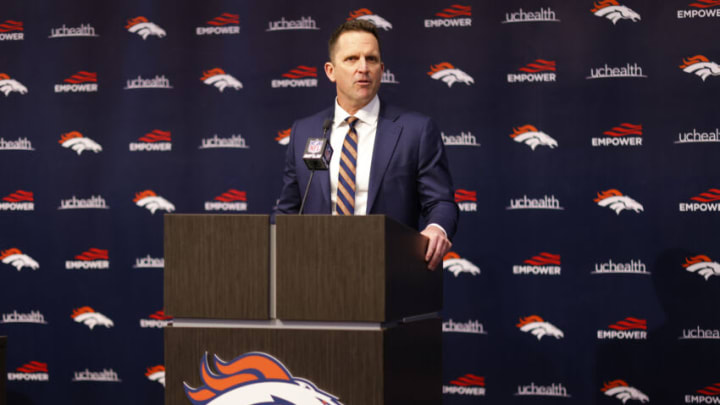 ENGLEWOOD, CO - MARCH 16: General Manager George Paton of the Denver Broncos addresses the media before introducing Quarterback Russell Wilson of the Denver Broncos at UCHealth Training Center on March 16, 2022 in Englewood, Colorado. (Photo by Justin Edmonds/Getty Images) /
Where does Russell Wilson rank at QB? Carolina Panthers quarterback Sam Darnold (14) throws the ball against the Tampa Bay Buccaneers during the first half at Raymond James Stadium. Mandatory Credit: Kim Klement-USA TODAY Sports /
The cost
Because of Wilson's deal, it hampers the team from being able to afford any top-notch backup (let alone a talented reclamation project).  Being able to sign Sam Darnold to a 2-year, 4-million-dollar deal would be nice. I just don't see that kind of prospect signing it (and sitting). So, what's the next step?
For a variety of reasons, I believe that the best way to address the backup QB position is to Draft one in this upcoming class.  I have always been a proponent of drafting QBs every year, as a successful pick is a boon for a franchise.
There are several ways to look at this option.
One, you're simply adding cost-controlled depth to the position. A simple, but logical method. However, I think you need to have a stronger bet hedged behind Wilson.
Another way to look at this is a new coaching staff wanting "their guy". Yes, they're tied to Wilson for a while, but that doesn't preclude a new coaching staff from finding their own guy to groom.
As we've seen through both of George Paton's drafts, he's not afraid to take BPA and athletic freaks.  If a talented QB falls to him at any point in the draft (including the first round), you can bet that the team will have that discussion.  Plenty of successful coaches have taken jobs with entrenched starters, but still took QBs that they liked early.
Jim Harbaugh selected Colin Kaepernick in the 2nd while he had Alex Smith in 2011.
Doug Pederson took Jalen Hurts in the 2nd with Carson Wentz on an extension.
KC took Pat Ma… Well, you get the point.
The idea that you can't take a QB early because you're "stuck" with another guy is a sunk-cost fallacy. The best teams are proactive and do what they can to correct mistakes, as soon as possible. The best way for the Broncos to move on from Russ in the near future (assuming his play continues to decline) is to successfully identify and develop a QB in the draft.
Having that guy in your back pocket gives the Broncos the leverage that they lost in the Wilson deal. If you need to rip the bandaid off in the next year or two, at least you would have a guy already in town to replace him on a cost-controlled contract.