Denver Broncos need to start their 2023 offseason checklist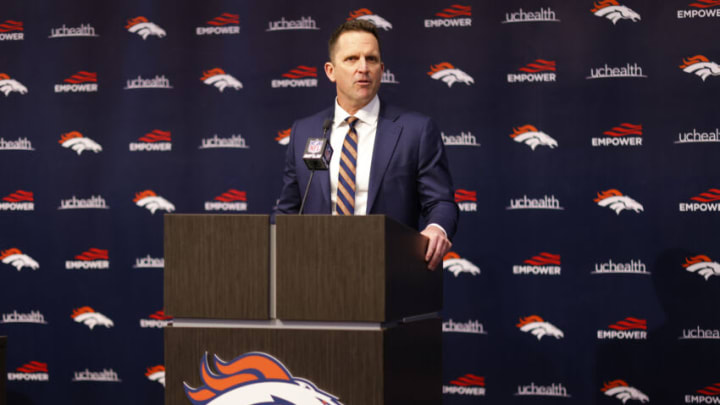 ENGLEWOOD, CO - MARCH 16: General Manager George Paton of the Denver Broncos addresses the media before introducing Quarterback Russell Wilson of the Denver Broncos at UCHealth Training Center on March 16, 2022 in Englewood, Colorado. (Photo by Justin Edmonds/Getty Images) /
CLEVELAND, OHIO – OCTOBER 21: DreMont Jones #93 of the Denver Broncos gets set during to an NFL game against the Cleveland Browns at FirstEnergy Stadium on October 21, 2021 in Cleveland, Ohio. (Photo by Cooper Neill/Getty Images) /
Fortify your Defensive Line 
Perhaps one of the few bright spots on this team has been the stellar play of some defensive linemen.  In his first year as a Bronco, DJ Jones has been a revelation.  The sixth-year player has racked up 30 tackles and 2 sacks, impressive for a position long considered to be "the run stuffer".
Fortunately, he's not going anywhere.  The problem with the defensive line is, your other stalwart could be elsewhere in 2023.
Since being selected by the Broncos in the 3rd round of the 2019 Draft, Dre'Mont Jones has emerged into a force for the Broncos' defense. On pace for career highs in tackles and sacks in a season, the former Buckeye is firmly planted his status as a guy ripe for an extension.
Rumors have been swirling about the team's efforts to keep Jones but if they want to keep the fourth-year lineman, they're going to give him a blank check.
Guys like him are prime candidates to get blockbuster deals come March, so anything less than top of the market price won't be enough to keep his services. The Broncos could franchise tag Jones, but that would only kick the proverbial can down the road. If they want to keep him long-term, a deal has to be reached ASAP.
Assuming they're not able to reach a deal with Jones, the Defensive Line will need some serious attention paid to it.
The other starting Defensive Lineman, De'Shawn Williams, is also scheduled to be a Free Agent. Playing on a modest 1-year, $1.65 million deal, Williams has been a reliable but non-disruptive presence along the line.  In a perfect world, Williams would be better served as the top reserve for a team rather than a starter.
Make no mistake, Williams is a classic "lunch pale, hark working player" that every locker room needs.  He's a guy I'm certainly looking at bringing back. You just need to make sure he's not guaranteed to be an impact player next year.
As for other guys that will be here next year, the team has a pair of rookies in Matt Henningsen and Eyioma Uwazurike. While the latter was the higher draft pick, it has been Henningsen that's been the consistent presence on the field.
He has been active for all 11 games this season and has come up with 17 tackles, in addition to 1 sack. Not the flashiest numbers but for a sixth-round rookie, I'll take the production.  He was labeled as a "football-playing Jesse" when he was drafted and so far, he has lived up to the billing.
Now, it's a matter of if his draft mate can make the ascent. Assuming Dre'Mont Jones leaves this off-season, the Broncos will have a big hole to fill on the Defensive Line. Any signs of progress (and production) from Uwazurike the rest of the season could go a long way to filling that spot.
Like RB, this is another position group that will require a multi-pronged approach. Yes, bringing back De'Shawn Williams would be nice, but the Broncos will need to make a sizable investment here. Whether it's a big-ticket free agent or multiple "value" signings, the Broncos will need to fortify the Defensive Line with more veteran players.
I would also look to draft a guy. As I've stated multiple times, how early this is prioritized in the draft solely depends on the staff that will be in town and what they prefer. It's safe to assume that one will be taken, it's just a matter of when.
The Denver Broncos have found an absolute stud in DJ Jones, but the guys outside of him will need to be addressed this off-season.  You simply cannot expect either Henningsen or Uwazurike to be ready for those spots come Week 1 of 2023.