Denver Broncos need to start their 2023 offseason checklist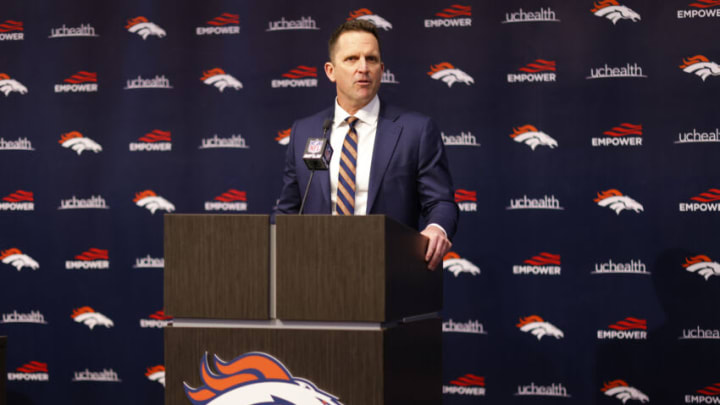 ENGLEWOOD, CO - MARCH 16: General Manager George Paton of the Denver Broncos addresses the media before introducing Quarterback Russell Wilson of the Denver Broncos at UCHealth Training Center on March 16, 2022 in Englewood, Colorado. (Photo by Justin Edmonds/Getty Images) /
DENVER, CO – NOVEMBER 28: Guard Quinn Meinerz #77 of the Denver Broncos lines up during the first half against the Los Angeles Chargers at Empower Field at Mile High on November 28, 2021 in Denver, Colorado. (Photo by Justin Edmonds/Getty Images) /
Fix the trenches, at all costs
As I alluded to on the previous page, the next priority of the 2023 off-season NEEDS to be fortifying the trenches. One major storyline of this dysfunctional season has been the beleaguered offensive line. Between injuries and schematic challenges, the big guys have had a rough go of things this year.
At this point, it's easier to count the number of guys that will be gone as opposed to the guys you can build with. A lone bright spot on the line is second-year RG, Quinn Meinerz.
The Wisconsin-Whitewater product has 15 NFL starts under his belt and has shown to be a solid, above-average talent at RG.  Considering how poor the line play has been over the years, an average, reliable player should be worth his weight in gold to the team.  Add in two more years of cost control on a rookie contract and it's safe to say that Meinerz will be starting next year.
As for the other guys, the only one that looks to be penciled in is LT Garrett Bolles. The sixth-year tackle has been one of the bricks on this team, but his future in Denver is murky.  With a projected $18 million cap hit and only $8 million in dead cap, his contract is one that is fairly easy to move on from. The problem is, can you find an upgrade at a better value?
Since suffering a broken leg in week 5, the LT position has been a Lazy Susan personified. Cam Fleming and Calvin Anderson have not filled in admirably, highlighting the drop-off in depth at the position.
Perhaps the Broncos could invest their first-round pick in the upcoming draft there. To me, it just feels like an unnecessary hole that needs to be opened up right now.  I think the best way to approach this position is to restructure Bolles' deal and give him one more year to man the blindside.
As for the other positions, these would be my suggestions to fill the spots.
Left Guard: I could see this position going multiple ways. Ultimately, I believe that the best route to take would be signing a veteran to a multi-year deal. Who that ends up being depends on the blocking scheme that the Broncos will employ next year, but it would be wise to have a sizable investment here.
Not only does it solidify the position for multiple years, but you would also have a veteran in place on that side. That could go a long way to keeping the line stable if you choose to move on from Bolles in the near future.
Center: Unlike Left Guard, I think that this is the position that NEEDS to be addressed in Free Agency. Whether we like it or not, the Broncos are tied to Russell Wilson for the foreseeable future. In order to maximize that time, finding dependable veteran players at good value should be paramount.  None of those positions is more important than the guy snapping to him on every play.
The Broncos employed this strategy for much of the Manning years (Dan Koppen in 2012, Manny Ramirez in 2013/14) to great success.  Fortunately, the Center group looks to be plentiful in the 2023 offseason. Former Bronco Conner McGovern will be available, along with Wilson's former Seattle snapper in Ethan Pocic.
Regardless of who they sign, this is a position that needs a trusted, intelligent veteran to not only anchor the line but keep Wilson in check.
Right Tackle: Similar to Left Guard, I could see the Broncos going either way to address the position.  Personally, this is the spot where I'm looking to draft a guy.  It's been nearly a decade since the Broncos have had a solid RT (Hey, Orlando Franklin) and the time to invest early capital at the position is past due.
It's too early in the pre-draft process to pinpoint a certain guy but rest assured, the Broncos can (and should) be able to identify a long-term answer there soon.
So for the OL, it's abundantly clear that this group needs a facelift. Until this group is rebuilt, I'm afraid that little will change with the team's prospects.
The next item on the agenda to is replenish the guys that will be following these blockers' lead.