Denver Broncos need to start their 2023 offseason checklist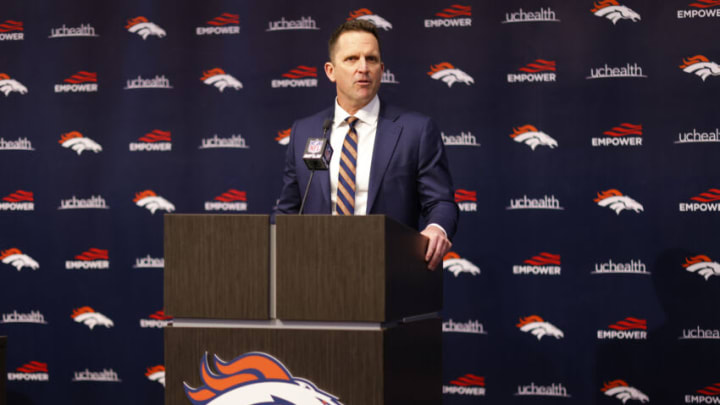 ENGLEWOOD, CO - MARCH 16: General Manager George Paton of the Denver Broncos addresses the media before introducing Quarterback Russell Wilson of the Denver Broncos at UCHealth Training Center on March 16, 2022 in Englewood, Colorado. (Photo by Justin Edmonds/Getty Images) /
Yes, there are six games left to play. Yes, they're mathematically still "alive" in the playoff picture. Let's be real, though.  This Denver Broncos team's competitive window for the year is effectively shut. After a close win against the Jags in London, there was a rejuvenated sense of hope within the fan base.  Alas, that optimism was not rewarded.
Since returning from London, the Broncos have reverted back to their porous ways.  Losing three straight games in painful (and embarrassing) fashion has led the organization with a litany of questions to answer.
Now that another Denver Broncos season is lost, it's time to prioritize what needs to be done in the offseason
The reality is, the Denver Broncos are barreling towards their sixth straight losing season and in the process, likely gifting a top 5 pick to the Seattle Seahawks.
The pain is palpable and the finger-pointing is in large abundance.  So that leaves us with the question, "What do we do now?". The short answer is, there are A LOT of things that we have to do. To help organize the to-do list, I'm going to prioritize some of the biggest needs in this article. While it may not cover every need on the Broncos' wish list, the needs listed below are the absolute biggest tasks that the Broncos brass have to solve this upcoming off-season.
Let's begin.
Hire a coaching staff that will install discipline, toughness, and common sense
DENVER, COLORADO – OCTOBER 23: Head coach Nathaniel Hackett of the Denver Broncos looks on against the New York Jets at Empower Field At Mile High on October 23, 2022 in Denver, Colorado. (Photo by Justin Edmonds/Getty Images) /
If there's one thing that the Denver Broncos have become proficient in recent years, it's organizing candidates for Head Coach interviews.  With a dismal 3-8 record and a variety of sideline gaffes, Head Coach Nathaniel Hackett finds himself firmly on the hot seat.
To many, it's well-earned. How do you manage to land a perennial Pro Bowl QB and skill talents like Courtland Sutton, Jerry Jeudy, etc, and have the WORST scoring offense in the NFL?
We've seen the dreaded "If the Broncos average X amount of points a game, they'd have this record" stat lines, so I'm going to spare us the details on that front.  The fact of the matter is, Nathaniel Hackett has woefully underperformed in his maiden voyage as an NFL Head Coach.
Whether it's been clock mismanagement, poor judgment on down and distance situations, or taking too long to relay a play into the huddle, Hackett has looked like a man underwater for the majority of his Broncos tenure.
Rookie mistakes could be tolerated if there was progress. Problem is, there's been little evidence of the latter with this regime.  Between hiring Jerry Rosburg to help with "coaching decisions" or passing the play-calling duties onto Klint Kubiak, the few attempts to improve the team by Hackett have yielded meager results.
So where does that leave his future in Denver? If you ask me, he would have been gone last week after the 2nd Raiders loss (to Hurricane Josh, no less). To the fanbase, it feels like a matter of WHEN, not if, Hackett is relieved of his duties.  Unfortunately, it appears that the new ownership group and George Paton will give him the rest of the season to figure it out. Regardless, it would be a shock if he's back in 2023.
Assuming he is sent packing, what should be the qualities that the Broncos look for in the next Head Coach? Well, there are four qualities that jump out to me.
First and foremost, it's evident that the Broncos need a coach with ample experience. The team is angling to be 0/3 with their recent HC hires and the common thread between them is obvious- they were all rookie Head Coaches.
Sure, some guys get it right on their first try.  However, it's more common to see "retread" hires have greater success than their inexperienced counterparts.  If there was ever a time to right the ship with a steady hand, it would be now.
This team can't afford to roll the dice on another inexperienced hire, hoping that they learn on the job. They have too much invested in key players to do so. So with the thought of a retread in mind, what are the other three qualities that the next Head Coach needs?
1. Discipline: The abundance of penalties committed by the 2022 Broncos is evidence enough that this team isn't disciplined.  I don't know if it's the "hug it out" mentality provided by Hackett or that the communication issues continue to hamper the execution, but it's clear that this team is sloppy. Just imagine how many more wins this team could have if they didn't commit asinine penalties and kill their own drives.
2. Toughness: In addition to the previous point, we have seen this team get gashed on multiple occasions. Against Carolina, we witnessed the run defense get punched in the mouth by the formidable duo of D'Onta Foreman and Chuba Hubbard. The game alone was enough of an example that this team lacks the necessary toughness to consistently grind out wins.
The word that comes to mind is grit. The Broncos just don't have enough of it to fight for the extra yards. It's a stark reminder that every play starts up front and getting play from those groups will yield bigger results (we'll get to said groups in a bit).
Point is, the Broncos need a desperate injection of toughness going forward.
3. Common Sense: Finally, they need a staff that uses their head and not "analytics" to make football decisions.  Instead of hiring "a coach for the coaches", what if we just hired competent assistants with enough experience to do their jobs? A revelation, I know.
Lost in the "instructional design" of the Hackett regime is good, old fashion common sense.  Football is a game of inches, and wise decisions.  We need a staff that will make sound and rational decisions when it matters.
Who that Head Coach and staff will be remains to be seen, but it's clear that the biggest step this team needs to take in the off-season is a swift change in leadership on the sidelines.