The Denver Broncos cannot play complementary football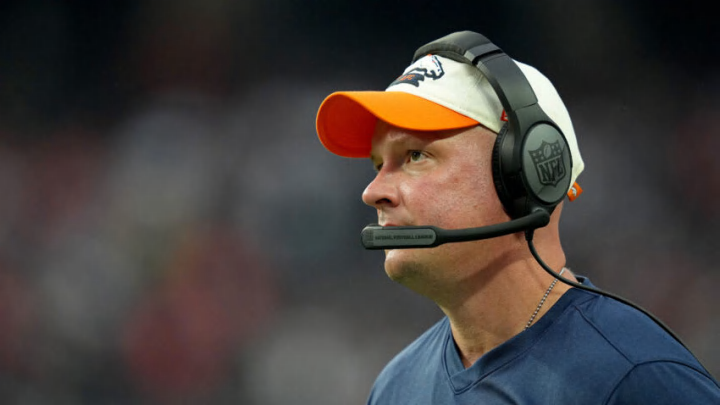 LAS VEGAS, NEVADA - OCTOBER 02: Head coach Nathaniel Hackett of the Denver Broncos looks on in the fourth quarter against the Las Vegas Raiders at Allegiant Stadium on October 02, 2022 in Las Vegas, Nevada. (Photo by Jeff Bottari/Getty Images) /
The Denver Broncos somehow lose the same way each week but make it a little bit different. The team cannot play complimentary football.  One of the hallmarks of an awful team is one that is inconsistent from week to week and a team that cannot play complimentary football.
The Denver Broncos are just that, an awful team.  Offensively, the game began well.  It's clear that the switch to Klint Kubiak as the offensive play-caller was a smart move.  Short and quick passes allowed Denver to move the ball well, and the occasional deep-ish throw also helped.
They sprung out to a quick 10-0 lead but quickly surrendered a touchdown drive.  It seems that anytime Denver does something good on offense, the defense says "hold my beer" and does something unideal.
Then, as the Broncos were driving to end the first half, Melvin Gordon fumbled close to the goal line.  Denver was moving the ball well during that drive and looked to be in prime position to score a touchdown to go up 17-7.
Not only did the fumble create a fourth down, but Brandon McManus had his short field goal attempt blocked.
So, the defense gave up a long touchdown drive, the offense fumbled, and the special teams missed a field goal.  This is the complete opposite of complementary football and goes to show how poorly coached a team this is.
It's disgusting to watch but it happens every week, so you'd think we'd be used to it by now.  Denver then allowed two straight scoring drives to the Raiders to end the game.  They allowed a game tying field goal drive which was set up on a long Josh Jacobs reception, and then allowed a long Davante Adams touchdown in overtime.
That ended the game, so the offense wasn't even able to see the field in overtime.  All in all, the Broncos are a huge and embarrassing mess.