3 Denver Broncos sleepers that could propel victory over Raiders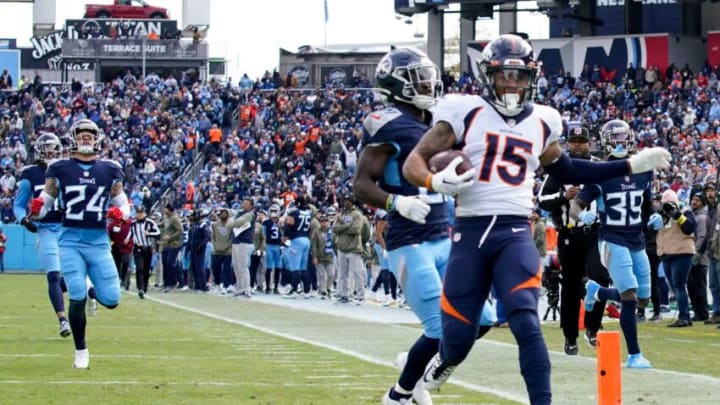 Denver Broncos wide receiver Jalen Virgil (15) runs in a touch down in the second quarter at Nissan Stadium Sunday, Nov. 13, 2022, in Nashville, Tenn.Nfl Denver Broncos At Tennessee Titans /
The Denver Broncos' 2022 season has been unforgettable, for all the wrong reasons, but a victory against the Las Vegas Raiders in Week 11 action would be a step in the right direction. It feels like it's been forever since the Broncos beat anybody in the division, but it's truly been a drought against the Raiders. The last time the Broncos beat the Raiders was at the end of the 2019 season, a relatively meaningless win on a batted pass by Shelby Harris as the Raiders opted to go for two instead of kick a game-tying extra point.
Here in Week 11 of the 2022 NFL season, the Broncos are a very disappointing 3-6, but even worse than the team's record is the horrendous play of the offense throughout the season. The Broncos are dead last in the NFL in scoring and there really don't seem to be any signs of progression (or hope) at this point. Sadly, the team's highest offensive output of the season so far was a 23-32 loss against the Raiders a few weeks back.
Which players on the Denver Broncos could propel a Week 11 win against Vegas and get the team to 4-6? Let's take a look at three.
3 Denver Broncos players that will be key if the team is going to beat the Raiders in Week 11
NASHVILLE, TENNESSEE – NOVEMBER 13: Chase Edmonds #19 of the Denver Broncos looks onward before his game against the Tennessee Titans at Nissan Stadium on November 13, 2022 in Nashville, Tennessee. (Photo by Silas Walker/Getty Images) /
Denver Broncos sleeper vs. Raiders: Chase Edmonds, RB
If the Denver Broncos are going to start having success offensively, they are going to need a running back to really step up for this team. Latavius Murray has been a nice addition in that he doesn't fumble the ball when he gets it. Melvin Gordon has failed to really establish himself as the team's RB1 in the absence of Javonte Williams and Mike Boone has once again struggled with injuries.
Enter Chase Edmonds, the latest running back to join the team. Edmonds came to the Denver Broncos from the Miami Dolphins in the Bradley Chubb trade, and although he was not really featured against the Tennessee Titans, I think he will be going forward.
Edmonds is known for his third-down abilities and the Broncos did try to get him a little involved in the passing game last weekend, but he caught just one pass (for 0 yards) and had two carries for nine yards. Against the Raiders, expect to see Edmonds' role increase for the team as he gets more and more familiar with the offense. If the Broncos can get him rolling, Edmonds could be the RB1 for the remainder of the season and perhaps be the spark the running game has needed.