Predicting landing spots for Denver Broncos 2023 free agents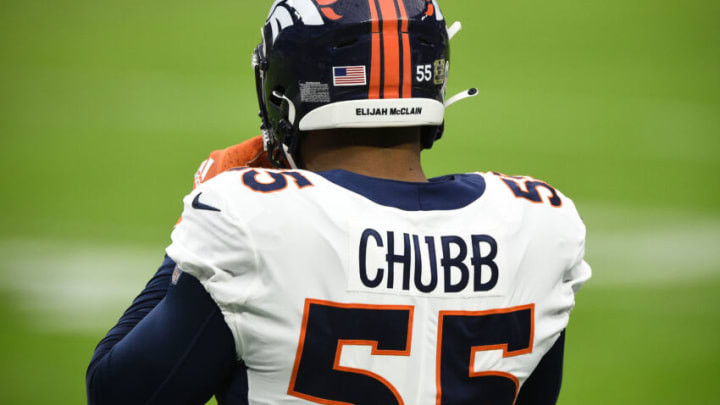 Denver Broncos, Bradley Chubb (Photo by Chris Unger/Getty Images) /
It's never too early to look ahead to the 2023 offseason, so where will some of the Denver Broncos' 2023 free agents end up for the 2023 season?
The Denver Broncos may have a very busy 2023 offseason.  They are set to have quite a few unrestricted free agents, and the team surely wants to sign some of them back, if they aren't traded before then or given deals before next offseason.
It's never too early to look ahead to this time, as it would be the first full offseason with Russell Wilson at quarterback.  The team could very well be coming off a deep playoff run in 2022, so Denver might end up being a very attractive destination for free agents.
As such, some of the Broncos' projected 2023 free agents might want to stay.
Obviously, no team re-signs all of their free agents, so let's take a look at some unrestricted free agents next offseason and predict where they'll sign.
DENVER, COLORADO – JANUARY 08: Melvin Gordon #25 of the Denver Broncos yells pre game prior to facing the Kansas City Chiefs at Empower Field At Mile High on January 08, 2022 in Denver, Colorado. (Photo by Jamie Schwaberow/Getty Images) /
Predicting where 2023 Denver Broncos free agents will sign
Melvin Gordon was just re-signed to the Denver Broncos and looks ready to enter his third season with the team.
If it was a bit uncertain whether he'd be re-signed for this year, it's likely a forgone conclusion that he won't be on the team in 2023.  Javonte Williams looks ready to take over the RB1 spot, and the team might simply want a backup for Williams who is also on their rookie deal, to perhaps save some money.
Melvin Gordon has been a fine player for the Denver Broncos, but nothing overly special.  He'll be 29 this season, so age is a valid concern.
He'd be entering his age-30 season in 2023, so he'd likely have to take an RB2 role somewhere.  That isn't to say he can't start for a team, but it's likely that he wouldn't get that chance unless there's an injury.
While I'm sure Gordon would love to come back to Denver for 2023, I think it's out of the cards.
So then, I would expect Gordon to again sign with a contender, as he did re-signing with Denver this year.
It makes sense for a 30-year-old running back to do so, as their shelf lives in the NFL are quite short.
He's spent his entire career in the AFC, and on the west coast, so I would expect him to want to stay in roughly the same area.
New team prediction for 2023: Los Angeles Rams