Broncos 2022 NFL 7-round mock draft decided by a computer simulation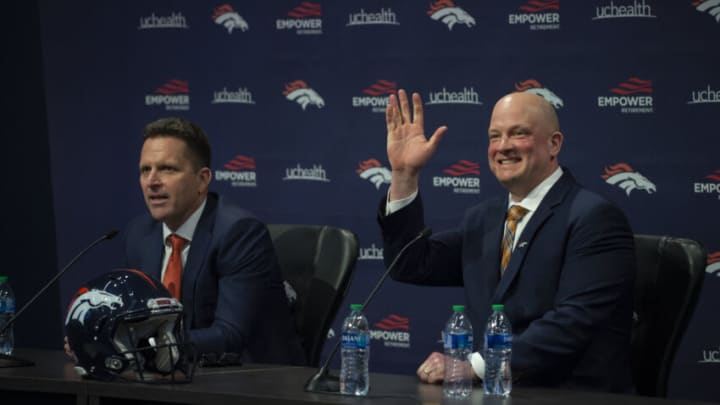 Jan 28, 2022; Englewood, CO, USA; Denver Broncos head coach Nathaniel Hackett waves to the family of Broncos GM George Paton during at a press conference at UC Health Training Center. Hackett becomes the18th head coach in franchise history. Mandatory Credit: John Leyba-USA TODAY Sports /
Denver Broncos mock draft; Louisville Cardinals quarterback Malik Cunningham (3) throws a pass against Kentucky Wildcats defensive end Josh Paschal (4) during the second quarter at Cardinal Stadium. Mandatory Credit: Jamie Rhodes-USA TODAY Sports /
How would the 2022 NFL Draft turn out for the Denver Broncos if every selection was made by a mock draft simulator? Let's evaluate all 9 picks.
It's one thing to lean on analytics. It's a completely different thing to let the analytics call the shots.
Although there's no perfect system or algorithm available for creating the ideal Denver Broncos mock draft, simulators are perfectly capable of putting together competent draft classes while eliminating personal bias from the equation.
Imagine if the Denver Broncos front office put the 2022 NFL Draft on cruise control and let a computer simulator make the picks for them.
That's exactly the idea we're going to explore today. What if the Denver Broncos' 2022 NFL Draft class was being picked by The Draft Network's Mock Draft Machine?
Here's how they did over seven rounds.
Mock Draft Simulator picks the Denver Broncos' 2022 NFL Draft
Pick 64: Josh Paschal, EDGE, Kentucky
It's probably past the time to be talking about Josh Paschal as a legitimate candidate to be the Denver Broncos' top pick in the 2022 NFL Draft.
Although the typical approach is for the top EDGE off the board to Denver to be Oklahoma's Nik Bonitto, Broncos fans may get their wish for EDGE depth in the form of Kentucky's star pass rusher and up-and-coming actor.
Paschal has an elite get-off with a 1.57-second 10-yard split and an overall RAS (Relative Athletic Score) of 9.47, which is also elite.
At 6-foot-3, just under 270 pounds, Paschal is built more like a traditional defensive end than he is an outside linebacker in a 3-4 defense, and you can't help but wonder if a lack of ideal length will affect his placement on the Broncos' draft board.
Still, this is a guy who can get after the quarterback and affect plays consistently, which is something the Broncos need.
I would be much more excited about Paschal at pick 75 or even 96 but with his high athletic score and the fact that he fits a position of need makes this a solid "B" pick, in my opinion.