Time for the Denver Broncos to get more aggressive in free agency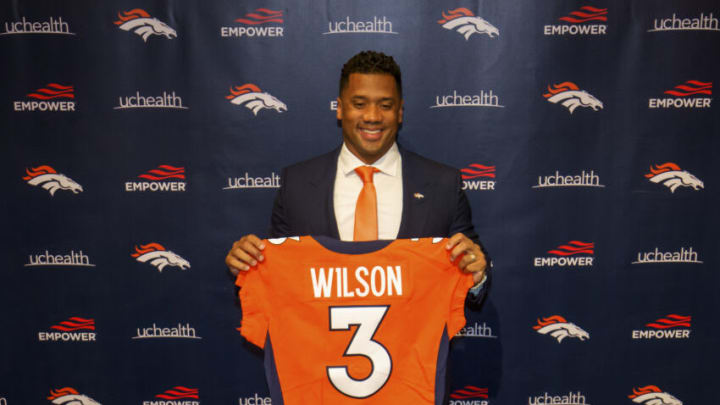 ENGLEWOOD, CO - MARCH 16: Quarterback Russell Wilson #3 of the Denver Broncos poses with his jersey after speaking to the media at UCHealth Training Center on March 16, 2022 in Englewood, Colorado. (Photo by Justin Edmonds/Getty Images) /
With the continued additions of elite players into the AFC West, it's time for the Denver Broncos to get more aggressive in free agency.
Several days ago, I wrote a piece saying that the Denver Broncos should not overreact to the Los Angeles Chargers and their significant additions during free agency.
However, with the Raiders now getting into the party with the additions of Chandler Jones and Davante Adams, the Broncos need to get more aggressive with the remaining waves of free agency.
As it stands now, the biggest hole on Denver's roster is their right tackle.   They brought back Calvin Anderson and signed free agent Tom Compton, but more needs done.
I think it's time for the team to make an ultra-aggressive push for La'el Collins.  If they miss out on him, signing someone like Billy Turner or even Trent Brown would make a ton of sense.
Denver needs to make a somewhat significant addition to this unit.  There aren't a lot of top-tier right tackle free agents left, but there are some solid options.
Billy Turner, the former Bronco and Packer, makes the most sense for the team.
He has experience with Nathaniel Hackett and his offensive scheme.
The team should not stop there.  They need to address their secondary.  Making a move like signing Tyrann Mathieu to couple with Justin Simmons would be a huge addition.
As for the cornerback, the team should probably re-sign Bryce Callahan for the slot spot, and I think it would be smart to sign another cornerback.   Being that Patrick Surtain II and Ronald Darby are the top two cornerbacks on the team, it is probably unlikely that the team could sign a fringe-CB1 to slide in as the CB3 on the Broncos.
However, trying to sign a cornerback like Joe Haden, Patrick Peterson, or even Stephon Gilmore could send a message to the rest of the AFC West that the Broncos are paying attention.
I also think it is smart to sign another edge piece to compete with the elite edge rushers in the division.  Adding someone else in general along the front 7 would be smart in my opinion.  There are a ton of quality free agent front 7 pieces that would give a boost to the Broncos defense.
I do think it is time for George Paton to get on the phone lines to make a few more free agent signings.  I am 100% confident in this team not only making the playoffs but making a deep playoff run.
However, the arms race in the AFC West is only just beginning, and the Broncos need to continue to arm themselves appropriately.