Denver Broncos final targets for George Paton to finish epic offseason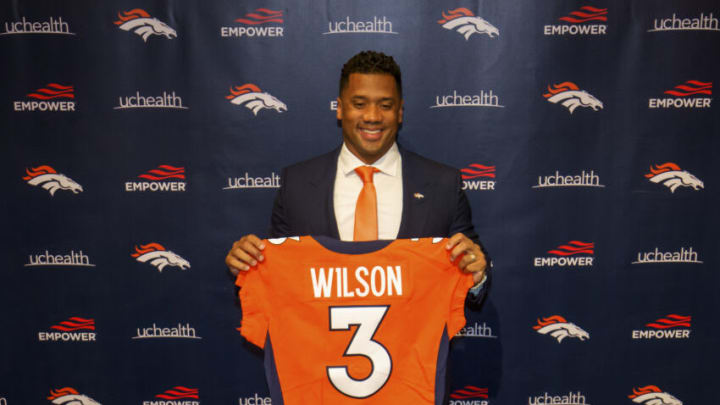 ENGLEWOOD, CO - MARCH 16: Quarterback Russell Wilson #3 of the Denver Broncos poses with his jersey after speaking to the media at UCHealth Training Center on March 16, 2022 in Englewood, Colorado. (Photo by Justin Edmonds/Getty Images) /
ENGLEWOOD, CO – MARCH 16: Quarterback Russell Wilson #3 of the Denver Broncos addresses the press at UCHealth Training Center on March 16, 2022 in Englewood, Colorado. (Photo by Justin Edmonds/Getty Images) /
After clearing through the first wave of free agency, the Denver Broncos still have some areas to improve. Who should George Paton target to fulfill those needs?
Through the first few days of free agency, the Denver Broncos have been methodical in their approach. If you have followed the franchise and how George Paton operates, this would not come across as a major surprise.
While he has stayed true to his word in keeping the Denver Broncos involved and aggressive, he also is not going to overpay or reach for a certain player or position. Paton is not the first to show his cards, but he will wait to see what the next gambler next to him has, and then he will decide if he is going to go all-in or fold.
Before this offseason began, the Denver Broncos were hurting at several positions, none less vital than the quarterback position. Followed by edge, cornerback, right tackle, and the defensive line, George Paton would need to be aggressive in order to fill these positions with, at the bare minimum, competency.
Some positions of need have been filled, while some have not. Quality starters have been added, Super Bowl Champions, and even some depth pieces.
Welcoming the following to the 2022 version of the Denver Broncos, including the returning:
Quarterback- Russell Wilson
Backup quarterback- Josh Johnson
Outside Linebacker- Randy Gregory
Defensive Lineman- D.J. Jones
Defensive Lineman- DeShawn Williams
Inside Linebacker- Alex Singleton
Tight End- Eric Tomlinson
Tight End/Fullback- Andrew Beck
Offensive Lineman- Ben Braden
Offensive Lineman- Tom Compton
Offensive Lineman- Calvin Anderson
There have been some great additions up until this point, but the Denver Broncos still need to add at the bare minimum, another cornerback. Maybe even two. It wouldn't hurt to add another pass rusher with the availability issues of Bradley Chubb and Randy Gregory.
After converting Tim Patrick's roster bonus to a signing bonus, the Denver Broncos do have a little bit more wiggle room.
Even with the extra space created, there is still a crunch on the current salary cap space. However, the salary cap is easily manipulated and I think the Denver Broncos should do just that to ensure this team is the best it can be, in 2022.
Who should George Paton target for the final positions of need if he is able and willing to move some numbers around?