Who should be Denver Broncos new special teams coach?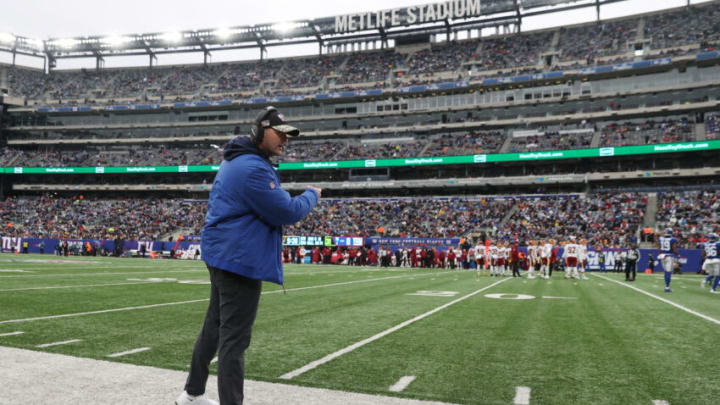 Denver Broncos: Head Coach Joe Judge of the New York Giants talks to the officials in the fourth quarter of the game against the San Francisco 49ers at MetLife Stadium on January 09, 2022 in East Rutherford, New Jersey. (Photo by Elsa/Getty Images) /
Denver Broncos offseason – New York Giants head coach Joe Judge on the sideline in the second half. The Giants lose to Washington, 22-7, at MetLife Stadium on Sunday, Jan. 9, 2022. /
The Denver Broncos' special teams unit has been one of the worst in the NFL the past several seasons, so who can the team hire to turn this unit around?
With the departure of former head coach Vic Fangio, new head coach Nathaniel Hackett is beginning to leave his mark on his new staff.
The team looks poised to hire Justen Outten and Ejiro Evero as the offensive and defensive coordinators, respectively.
Outten is the tight ends coach in Green Bay, and Evero is the secondary coach and pass game coordinator for the Los Angeles Rams.
The next logical hire should be the special teams coordinator, and this is one that Hackett needs to get right.
The Broncos special teams unit is bad, to say the least, and was responsible for many game-altering plays during the tenure of Tom McMahon.
Hopefully, the Denver Broncos can get this hire right, but the Packers' special teams may have been worse than the Broncos', so it's safe to say that Nathaniel Hackett probably won't pluck someone from Green Bay's staff to lead his unit.
With a plethora of teams changing coaching administrations, there are bound to be special teams coaches and assistants who would be looking for new jobs.
Let's take a look at a few names that could come to Denver and coordinate the special teams.
Which special teams coaches should be targeted by the Denver Broncos?
Joe Judge
Joe Judge was largely a failure as head coach of the New York Football Giants from 2020-2021, but that does not mean he's a bad coach in general.
Before arriving in New York, Judge was the Patriots' special teams coordinator from 2015-2019 and served as a special teams assistant in New England from 2012-2014.
Judge knows special teams, as the Patriots' special teams unit has been one of the very best in the NFL for more than a decade.
Judge is also just the second head coach to ever be hired directly out of a special teams role.
The Denver Broncos could use his expertise to help their unit become at least average.
It would also be nice to have a former head coach on the staff, seeing as that would, theoretically at least, assist Nathaniel Hackett a bit.
Judge might be the best option of the bunch.  With about 15 years of special teams coaching experience, Judge provides the much-needed knowledge to save the Denver Broncos unit.