Proof Broncos were completely sold on Nathaniel Hackett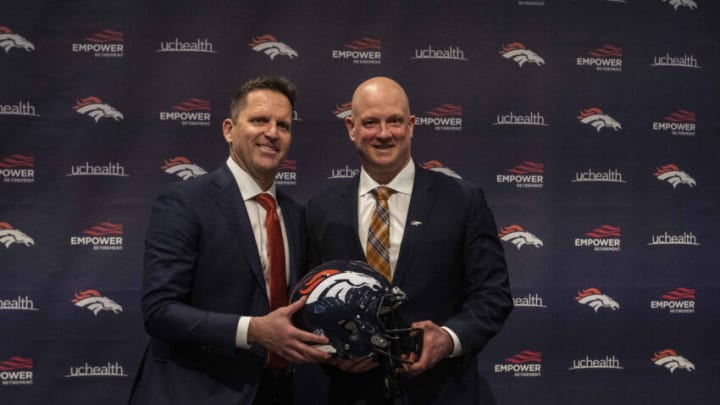 Jan 28, 2022; Englewood, CO, USA; Denver Broncos GM George Paton with Nathaniel Hackett after announcing him as the club's head coach at a press conference at UC Health Training Center. Mandatory Credit: John Leyba-USA TODAY Sports /
The Denver Broncos were completely sold on new head coach Nathaniel Hackett based off of this one thing.
Former Green Bay Packers offensive coordinator Nathaniel Hackett became the head coach of the Denver Broncos on Friday (officially, with a press conference) after being around the game of football in various roles since 2003.
He now gets his shot at leading a Broncos team that has missed the playoffs every year since winning the Super Bowl back in 2016 (2015 regular season).
After a grueling process of interviewing many candidates, George Paton and the team felt confident enough in as many as five of their interviewees.
Many people believed that Dallas Cowboys defensive coordinator Dan Quinn was the front runner for the Broncos head coaching job, and maybe he was for some time. That changed once they interviewed Hackett, who blew them away.
The fact that they had confidence they could get five of their candidates and ended up choosing Hackett shows that they really believe in the 42-year old. You don't go all-in on someone unless they're the guy. 
Hackett will try and turn the Denver Broncos franchise around and it will start by hiring his own staff. Some coaches may be retained by Hackett, and some surely are goners. Benjamin Allbright and Ryan Edwards of Broncos Country Tonight have previously talked about these things including Mike Munchak likely moving on due to scheme fit.
Hackett's offensive plan includes some play-action, running his outside zone scheme, and finding the right players and coaches to run it. On the defensive side of the ball, it appears Hackett's plan is to do a lot of coverage disguising.
The defense has not been that big of an issue for the Broncos but some games have gotten away from them. The Broncos could have some new cornerbacks in 2022 with Kyle Fuller and Bryce Callahan scheduled to hit free agency, as well as safety Kareem Jackson, inside linebackers Alexander Johnson and Josey Jewell.
I'd imagine the team will bring back some of their big names but right now, it's up in the air as Hackett is just settling in.
It will also be interesting to see whether or not the hire of Hackett will ultimately lure Aaron Rodgers from the Packers to the Broncos when trade season is underway. Paton stated that Hackett's hire had nothing to do with Rodgers, and that may be true but you can't dismiss the possibilities here.