Broncos: 5 players that need to step up to save the season vs. WFT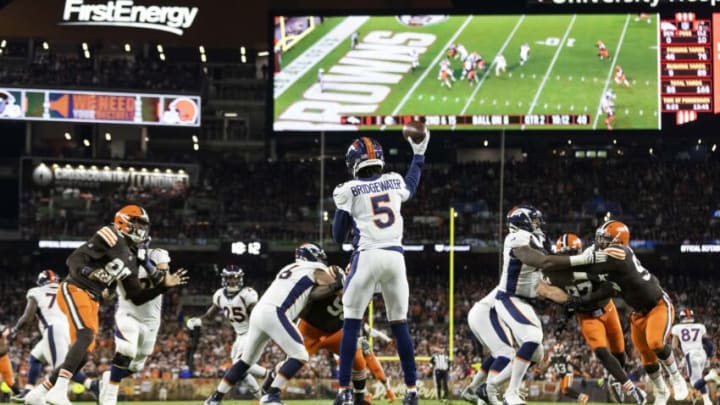 Denver Broncos quarterback Teddy Bridgewater. Mandatory Credit: Scott Galvin-USA TODAY Sports /
Denver Broncos, Teddy Bridgewater. Mandatory Credit: Scott Galvin-USA TODAY Sports /
The Denver Broncos need a victory on Halloween to essentially save their 2021 season. Which players need to step up in a big way?
The Denver Broncos are on a four-game losing streak and after starting 3-0, fans are understandably hysterical.
At 3-0, NFL history will tell you the Broncos had nearly an 80 percent shot at making the playoffs. Of course, teams that start off 3-0 don't typically lose four straight games in the month of October.
That's precisely what the Denver Broncos have done, however. Those four straight losses have many in the fan base calling for Vic Fangio's head, Pat Shurmur's head, and for Teddy Bridgewater to be benched.
Against the Washington Football Team on Sunday, however, the Broncos have a chance to get at least one victory on the very last day of October and improve to 4-4 on the season.
Broncos: 5 players that need to step up to save the season vs. WFT
Winning or losing against Washington could be the difference between the Denver Broncos becoming buyers or sellers at the 2021 NFL trade deadline. Maybe a win won't move the needle that far, but it would at least give general manager George Paton something to think about.
Paton has already executed a couple of trades in the last week to help the team now, dealing for pass rusher Stephen Weatherly and linebacker Kenny Young.
Which players will need to step up in a big way against Washington to get the Broncos that potentially season-saving victory?
Let's take a look at the top five.