Denver Broncos: Highlights from 2021 Hall of Fame weekend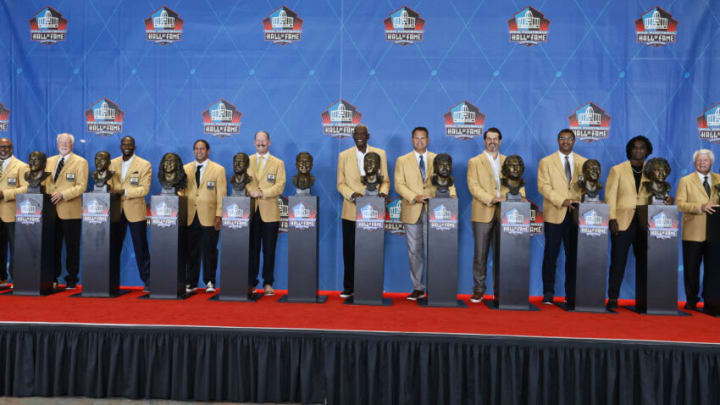 CANTON, OHIO - AUGUST 07: Members of the Pro Football Hall of Fame Centennial Class, (L-R) Donnie Shell, Cliff Harris, Isaac Bruce, Troy Polamalu, Bill Cowher, Harold Carmichael, Jimbo Covert, Steve Hutchinson, Steve Atwater, Edgerrin James, and Jimmy Johnson, pose during the induction ceremony at the Pro Football Hall of Fame on August 7, 2021 in Canton, Ohio. (Photo by Ron Schwane-Pool/Getty Images) /
CANTON, OHIO – AUGUST 07: Members of the Pro Football Hall of Fame Centennial Class, (L-R) Donnie Shell, Cliff Harris, Isaac Bruce, Troy Polamalu, Bill Cowher, Harold Carmichael, Jimbo Covert, Steve Hutchinson, Steve Atwater, Edgerrin James, and Jimmy Johnson, pose during the induction ceremony at the Pro Football Hall of Fame on August 7, 2021 in Canton, Ohio. (Photo by Ron Schwane-Pool/Getty Images) /
Former Denver Broncos safety Steve Atwater
Hall of Famer Steve Atwater. That has been said around Denver for a while, and now it is one-hundred percent real. Atwater has a lot to his name, so naturally, one would think that he would (as anybody probably would) boast about all of his accomplishments throughout his career.
That's exactly what he didn't do.
In Atwater's speech on Saturday, the Smiling Assassin made it all about everybody else but himself. He selflessly went out of his way and spent his entire speech thanking so many people, from his college coaches to coaches he played for in the NFL to his former teammates, and let's not forget his loved ones.
""And thank you to the many Broncos coaches. Are the Denver Broncos in the house? A lot of coaches contributed to my development, both on and off the field. Dan Reeves, Wade Phillips, Charlie Waters — thank you. Rich Smith, Alvin Reynolds, Greg Robinson and my lifetime friend, Ed Donatell, and of course Mike Shanahan, the most-organized and disciplined person I have ever met in my life, and obviously the coach who led us to those back-to-back Super Bowl victories — thank you for being amazing coaches, for believing in me and for your guidance over the years. I also want to thank our strength and conditioning coaches, Al Miller and Rich Tuten for always keeping us in tip-top shape. And also my trainers, Jim Keller, James Collins and Steve Antonopulos, aka 'Greek' — 'Greek,' congratulations to you for a remarkable 45-year career with the Denver Broncos. You are amazing. Thank you for everything. "I also want to thank the New York Jets organization and all of my teammates and coaches there. That was a great experience. — Steve Atwater during Hall of Fame speech (via DenverBroncos.com)"
To close things off, Atwater thanked one last group of people:
""And finally, thank you, Broncos Country! I love you all. God bless!""
Former Denver Broncos quarterback Peyton Manning
We all know Peyton Manning as a laid back person with a great sense of humour. While his competitive nature existed on the field, he still had that wittiness to himself. He's still got it and it showed during his Hall of Fame speech.
From Nationwide commercials to Chicken Parm, You Taste So Good, Peyton Manning has been in his fair share of commercials. We need more of that Peyton.
During his Hall of Fame speech, Manning was also selfless but told some stories along the way.
And some jokes.
""The 2021 induction class wants to thank those previous inductees who gave longwinded acceptance speeches, forcing us to have a whopping six minutes to recap our football careers. I want to give a special thanks to my old rival, Ray Lewis, for being here tonight. Ray just finished giving his speech that he started in 2018." — Peyton Manning joking about the lack of time the Hall of Fame gave each nominee this year."
While continuing his comments on the Hall of Fame speech duration, Manning took the time to shoutout rival quarterback Tom Brady. This was a great indicator of their strong friendship despite all of the battles off the field and also on the golf course.
""Next year, acceptance speeches will probably shrink to four minutes. And speaking of rivals, my good friend Tom Brady is here tonight. By the time Tom Brady is inducted in his first year of eligibility in the year 2035, he'll only have time to post his acceptance speech on his Instagram account." — Peyton Manning on Tom Brady's presence at Hall of Fame."
Manning revisited a dream he had just the night before his induction speech, talking about how he was playing football with some fellow Hall of Fame greats such as Barry Sanders, Sammy Baugh, Deacon Jones, and Ray Nitschke among others.
""Anyway, I just think it's pretty cool to say you're on the same team as Johnny Unitas and Slingin' Sammy Baugh. I am honored to be a member of this elite class and a teammate of Drew [Pearson]'s , Coach [Tom] Flores', John [Lynch], Calvin [Johnson], Alan [Faneca] and Charles. [Woodson]" — Peyton Manning shouting out fellow 2021 Hall of Famers"
Former Denver Broncos safety John Lynch
John Lynch started off his Hall of Fame speech with a mix of seriousness and a joke:
""What a humbling honor. First, let me say nothing about my Hall of Fame journey has been easy. I waited eight years as a finalist, and then David Baker tells me I'm following Peyton Manning. Thanks a lot, David." — John Lynch's opening lines of his Hall of Fame speech."
This was obviously a respect thing. Everybody has at least some form of respect for Manning and even as competitors, that still was true.
Lynch, after thanking many of his family members including his wife Linda, talked about his time with Dennis Green Hall of Fame coach Bill Walsh.
Now, Lynch never played for Walsh during his time in the NFL, but their paths did cross at the collegiate level.
""I went to Stanford University as a quarterback and a baseball player. After two years as a number two quarterback, I was tired of that. I decided the best way for me to get on the football field was to convert to safety. I want to thank the late, great Denny Green for guiding me through this life-altering decision. Later that year, I was drafted in the second round of the Major League Baseball draft by the Florida Marlins and believe that baseball was going to be my future. Enter, the late, great Bill Walsh. Coach Walsh had returned to Stanford as our head coach in 1992, when Coach Green accepted the head job for the Minnesota Vikings. One day, I received a call from Bill. "Hey John, this is Bill Walsh. I've been studying our defense last year and, John, you were our best defensive player." Shocked, I said to him, "Coach, with all due respect, I played safety for one year and I played half the snaps. How can you possibly arrive at that opinion?" He said, simply, "The film. I watched it, and you can be a Pro Bowl safety in the NFL." When I returned to school, in true Bill Walsh fashion, he not only told me, he showed me. He showed me a tape of me making a play, then perhaps a play of perhaps the greatest safety of all time, Ronnie Lott, making a similar play. There were only five plays on that tape, but after watching it, I was all in." — John Lynch on his time with legendary coach Bill Walsh."
Thank you to Green and Walsh for realizing Lynch's potential and helping him on his path to becoming a Pro Football Hall of Fame player.
On a personal level, it was such a joy getting to watch Manning and Lynch throughout their careers, especially with the Denver Broncos. Sadly, I wasn't old enough or introduced to football when Atwater played, but everything that I did see and have heard is incredible.
These three players made so much history on the game of football and now are immortalized into the Pro Football Hall of Fame. Congratulations to all three of you, but as well as every other member who was enshrined this past weekend. Congratulations, Classes of 2020 and 2021.