Denver Broncos: Highlights from 2021 Hall of Fame weekend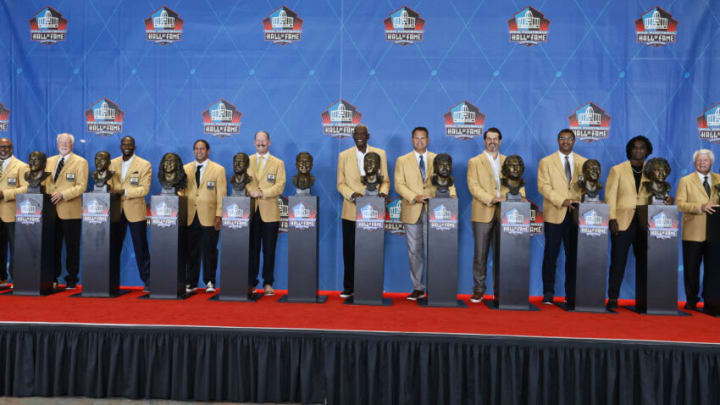 CANTON, OHIO - AUGUST 07: Members of the Pro Football Hall of Fame Centennial Class, (L-R) Donnie Shell, Cliff Harris, Isaac Bruce, Troy Polamalu, Bill Cowher, Harold Carmichael, Jimbo Covert, Steve Hutchinson, Steve Atwater, Edgerrin James, and Jimmy Johnson, pose during the induction ceremony at the Pro Football Hall of Fame on August 7, 2021 in Canton, Ohio. (Photo by Ron Schwane-Pool/Getty Images) /
CANTON, OHIO – AUGUST 08: Former Denver Broncos quarterback Peyton Manning speaks during the NFL Hall of Fame Enshrinement Ceremony at Tom Benson Hall Of Fame Stadium on August 08, 2021 in Canton, Ohio. (Photo by Emilee Chinn/Getty Images) /
The Denver Broncos had three of their former players inducted into the Pro Football Hall of Fame on Saturday night. Safeties Steve Atwater and John Lynch join quarterback Peyton Manning among several others in the Class of 2021.
For Manning, it is his first year of eligibility. Atwater has been eligible for 16 years. It is unbelievable that it has taken this long. But at the end of the day, it doesn't matter how long the journey takes. The destination matters. In fact, Atwater was voted into the Hall of Fame last year but with the pandemic, it did not happen. It's finally his time.
Lynch retired in 2008, and has been eligible since 2013. He won Super Bowl XXXVII with the Tampa Bay Buccaneers. Lynch was drafted by Tampa Bay in 1993 and had tremendous success down south before joining the Denver Broncos in 2004.
Lynch played four seasons with the Denver Broncos before asking for his release and attempting to continue his career with the New England Patriots for a brief moment before officially retiring.
Presenters
As the Hall of Fame ceremonies go, each member has a person they pick out to present them. For the Broncos candidates, the presenters are as follows:
Quarterback Peyton Manning's presenter will be his father, Archie Manning.
Safety Steve Atwater's presenter will be former Denver Broncos teammate safety Dennis Smith.
Safety John Lynch's presenter will be his son Jake, as well as former coach Herm Edwards.
Former teammates/coaches will be in attendance 
For Peyton Manning, several of his former teammates have gotten the opportunity to attend the ceremony, including Broncos outside linebacker Von Miller and kicker Brandon McManus. Vic Fangio has excused both players from practice.
Let's not forget Manning's biggest rival throughout his NFL career. Former New England Patriots and current Tampa Bay Buccaneers quarterback Tom Brady is in attendance, as well. Both Manning and Brady each had something funny to say about it:
""I'm not sure how my Colts teammates will feel about that." — Peyton Manning"
Brady joked that he wants to make sure Manning won't be coming back into the league.
""I just need to make sure he's really done. Can't risk this guy coming back…" — Tom Brady via Twitter"
Mike Klis caught up with Manning on Saturday:
Despite their on-field battles, it appears Manning and Brady are great pals. They are competitors. It looks like there is no bad blood between the two. That is great to see.
Brady took time out of his day to congratulate Manning.
Per Mike Klis, Denver Broncos great and former general manager John Elway is also in attendance for the speeches. Elway was the general manager of the Broncos that brought Manning to Denver and got to two Super Bowls, winning one of them. They were on the path to another one (which would have been their first with Manning) in 2012–but we all remember how that went.
Former Broncos cornerback Champ Bailey and safety Brian Dawkins are also in attendance:
One of Atwater's head coaches and defensive coordinators Wade Phillips also made the trip.
The Denver Broncos also sent many of their staff members to cheer on Atwater,  Lynch, and Manning.
John Elway spoke about how thankful he is that Peyton Manning decided to go to Denver during his 2012 free agent tour:
The Broncos won 45 of 57 games under Manning's guidance and appeared in two Super Bowls, winning one—Super Bowl 50 against the Carolina Panthers.
Manning threw 140 touchdowns for the Broncos including 55 in 2013–an NFL record.
Broncos fans and former Broncos teammates of Manning are so thankful that he chose to sign with the team.
Eli Manning has jokes
On Friday Morning, the NFL Twitter account published a video featuring Eli Manning—yes, Peyton Manning's brother—congratulating him.
It came with a funny twist.
This goes to show the type of relationship the two brothers have, and the dedication they had to make each other better. It is awesome to see this.
If you know Peyton Manning, you know that he is an extremely hard worker. He studied constantly while in the league, and has even gone lengths to help Broncos quarterback Drew Lock study and get some technicalities in his game correct.
New England Patriots head coach Bill Belichick gave Manning very high praise prior to Manning's induction:
""He is definitely the best quarterback I've coached against," Belichick said. "There have been quarterbacks who called their own plays, but it was nowhere near the same as what he did. He basically called every play by adjusting and/or changing the play once he saw what the defense was doing. He excelled at using the cadence and recognizing blitzes, and more than any one single offensive player, he forced us to change and adapt defensive game plans." Patriots head coach Bill Belichick via The Boston Globe."
Belichick has faced some great quarterbacks in his coaching career. It's no surprise that Manning is considered his greatest quarterback opponent. It is amazing praise.
All three former Broncos have gotten banners put up in the Pat Bowlen Fieldhouse.
Members of the Super Bowl 50 team are in attendance for Sunday's enshrinement of Peyton Manning.
From left to right: Former running back C.J. Anderson, former cornerback Aqib Talib, former safety T.J. Ward, current kicker Brandon McManus, former linebacker DeMarcus Ware, former safety Darian Stewart, former linebacker Wesley Woodyard, former defensive coordinator Wade Phillips, former head coach John Fox.
Former Broncos receiver Demaryius Thomas is in attendance.
Thomas caught 665 passes for over 9,000 yards and 63 touchdowns as a Bronco, including 456 while Manning was in Denver (but not all of those receptions from Manning). Most, though.