Drew Lock aims to be a 'more calculated gunslinger' in 2021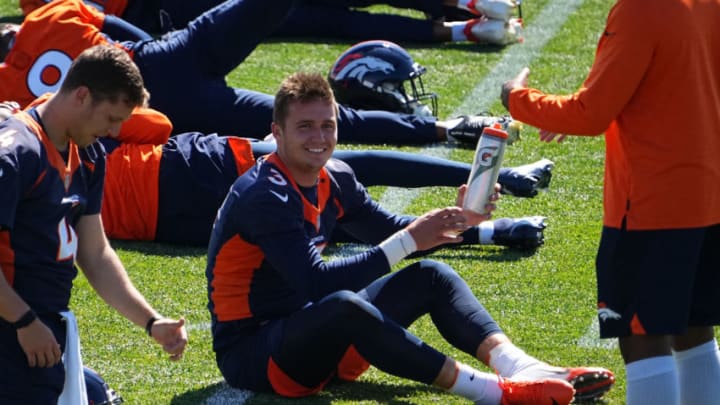 Jun 1, 2021; Englewood, Colorado, USA;Denver Broncos quarterback Drew Lock (3) during organized team activities at the UCHealth Training Center. Mandatory Credit: Ron Chenoy-USA TODAY Sports /
Denver Broncos quarterback Drew Lock took some risks while throwing the football during the 2020 season—his first as a full-time starter. Unfortunately, many of those risks did not pay off. He finished the season tied in leading the league with 15 interceptions.
In a competition with 2021 acquisition Teddy Bridgewater via a trade with the Carolina Panthers, Lock is planning on being a better decision-maker while still trying to make plays down the field, instead of always taking the safe plays such as check downs to the running back or short passes to tight ends.
"I feel like I"m a smarter player now. I feel like the chances I do take are more calculated. I do know when to check it down… The gunslinger mentality can still be there, but it's got to be calculated.— Broncos quarterback Drew Lock via Broncos PR."
Many things go into becoming the type of player Lock envisions being. For one, he has to be patient and not throw to his first read every single play. Last season, we saw him do that fairly often. He would see that his first read wasn't there, and sometimes just would not go to his second or third reads. That will have to change.
Sometimes he would force throws into tight coverage expecting things to go his way and in the NFL, you can't always do that. Going through progressions is a huge part of being a quarterback. He will get better at that with time.
The Broncos will also get Courtland Sutton back for the start of the season. A big part of the team's struggles was because Sutton was not available for the majority of the season. With him back in the fold, the offense should eventually be a strong part of the team as a whole.
It is still early in the process for year two, and hopefully, players remain healthy for the season. Eventually, this team could be a strong contender.
It is also fascinating to not hear Lock mention anything about "if he will be chosen as the starting quarterback." His mentality appears to be—and should be—that he will be the starter. That's not to say that he has it locked up (pun intended). But that confidence is a great trait to have. We'll see by the end of the preseason which quarterback the coaches decide to roll with. Right now, Lock is aiming to get better.