Denver Broncos: Vic Fangio trending up or down as a head coach?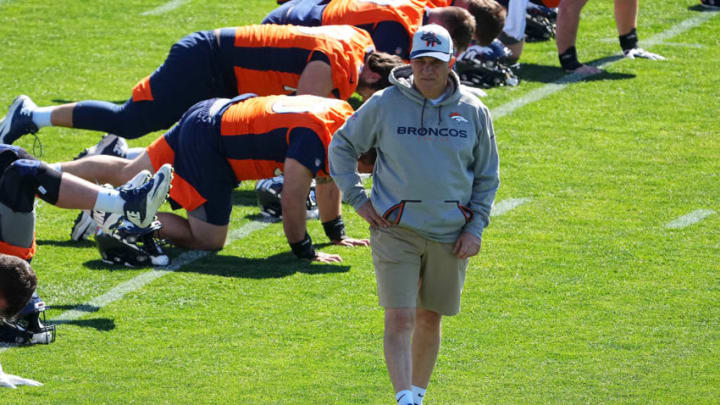 Jun 1, 2021; Englewood, Colorado, USA; Denver Broncos head coach Vic Fangio during organized team activities at the UCHealth Training Center. Mandatory Credit: Ron Chenoy-USA TODAY Sports /
The Denver Broncos have one of the best defensive-minded head coaches in the league in Vic Fangio. What direction is his arrow pointing?
If Vic Fangio were fired by the Denver Broncos, it would probably take all of a couple of hours before he had another job lined up in the NFL, as a defensive coordinator or otherwise. There are few in the NFL as respected and revered on the defensive side of the ball as Fangio, whose old-school methods have never prevented him from adapting with the times.
Fangio understands football trends as well as anyone and he's certainly never been considered behind the times by any means when it comes to scheming a defense.
With that being said, as terrific as Fangio is as a defensive coordinator, he's undoubtedly on the hot seat in his third season as Denver Broncos head coach. Even though he's on the proverbial hot seat, what direction is Fangio trending?
Vic Fangio trending up or down as Denver Broncos head coach?
Although it may be difficult to say this coming off of a really poor season as a team in 2020, Fangio's arrow is pointing up, if even just slightly.
SI.com has an article ranking the NFL head coaches 1-32 and Fangio came in as the 23rd overall ranked head coach in the league but with an upward trajectory.
"This is a make or break year for Fangio and the Broncos, but if I were a defensive-focused head coach like him, I wouldn't hate this team representing my last and best chance to reach the postseason. Denver's defense is loaded and the secondary may be among the best (on paper) that Fangio has worked with since his time in San Francisco. While the Broncos are still facing some serious question marks at the quarterback position, this offensive line and running game are good enough to complement a world-beating defense and make a run at the postseason.SI.com on Vic Fangio"
Everyone in the NFL right now is getting graded on an unfair "Kansas City" curve. Fangio's seat is not hot because the Denver Broncos are expecting him to overthrow the Chiefs this year, but it would be good to break the losing streak against Kansas City that has been ongoing since the Broncos' Super Bowl season in 2015.
Beating the Chiefs would be a great notch on Fangio's belt, but with expanded seeding in the playoffs to seven teams and a longer regular season with 17 games, the Denver Broncos and Vic Fangio need to get into the postseason this year, or at least probably win 9 or 10 games.
Another .500 or losing season would likely spell the end for Fangio in Denver, as valuable as he is of a defensive mind.
As talented as the Broncos are on that side of the ball and with so many other areas of the roster pointing up, it's hard to believe this team won't be able to be in the mix for the postseason not only to preserve Fangio's job, but really reinforce why the Denver Broncos hired him in the first place.