Denver Broncos: Looking back at the deal that almost was with Tim Brown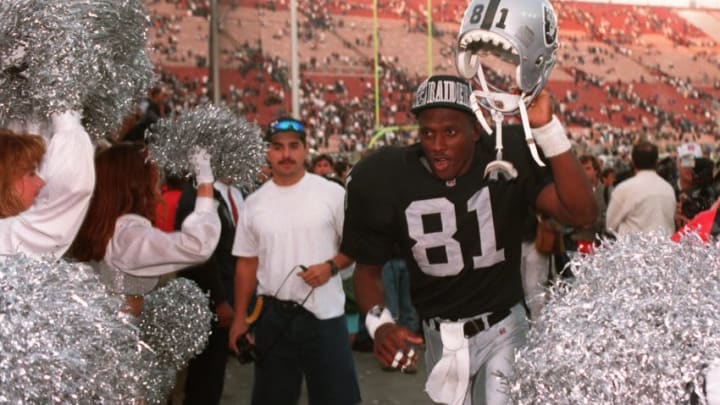 9 JAN 1994: TIM BROWN OF THE LOS ANGELES RAIDERS WITH HELMET ALOFT LEAVES THE FIELD AFTER THE RAIDERS DEFEATED THE DENVER BRONCOS 42-24. Mandatory Credit: Al Bello/ALLSPORT /
Oakland Raiders wide receiver Tim Brown (L) eludes a tackle from Tampa Bay Buccaneers safety John Lynch to score the Raiders first touchdown on a pass from Raiders quarterback Rich Gannon 19 December 1999, in Oakland, California. The Raiders defeated the Bucs, 45-0. AFP PHOTO/John G. Mabanglo (Photo by JOHN G. MABANGLO / AFP) (Photo by JOHN G. MABANGLO/AFP via Getty Images) /
Things worked out for all parties
It's hard to say what would have happened had Brown come to Denver and what kind of success he would have had but going off of his track record, there is every reason to believe he would have been great, especially with Elway around.
Brown only got better as the years went on with the Raiders and once he was able to play  with Jerry Rice and an MVP-level Rich Gannon, the team went to the Super Bowl.
Brown is the Raiders' all-time leader in career receiving yardage, receptions and touchdowns. The player in second place in each of those categories (Fred Biletnikoff, no slouch either) is light years away from Brown's final numbers.
Brown is definitely one of the best Raiders in history and should have played his entire career there, but finished his career after one season with the Tampa Bay  Buccaneers.
The fact that Brown didn't end up in Denver worked out for the Broncos as well. Miller was a fine second choice and the fact that the team was able to move McCaffrey and Smith into the rotation in 1995 helped the team build a Super Bowl-winning roster.
Brown was still well in his prime in 1995 and if the Broncos had him, they might not have signed McCaffrey and it certainly could have and likely would have stunted the growth of Smith, who went on to become the best receiver in team history.
That's not to say that Brown would have been bad in Denver because he wouldn't have. It's just to say that things worked out the way they were supposed to.
At least Pat Bowlen and his team forced Al Davis and his guys to fork over a little more cash to keep Brown from bolting to a better place.