Denver Broncos: Building a Super Bowl team in the modern NFL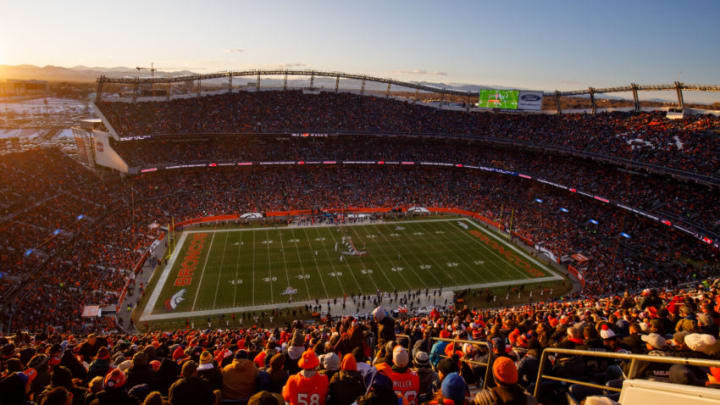 DENVER, CO - DECEMBER 29: A general view of the stadium as the Denver Broncos drive against the Oakland Raiders while the sun sets during the third quarter at Empower Field at Mile High on December 29, 2019 in Denver, Colorado. The Broncos defeated the Raiders 16-15. (Photo by Justin Edmonds/Getty Images) /
Denver Broncos QB Drew Lock. Mandatory Credit: Jay Biggerstaff-USA TODAY Sports /
Denver Broncos: Moving Forward
While hopes are always high for a quick turnaround and we may truly be a sleeping giant, this team has a lot of hard work ahead of it before we regain our place at the championship table.
It has been a long five years since Peyton walked away, Budweiser in hand. To put it bluntly, the recent state of the team has been nothing less than painful for this city, compared to our long history of winning.
We're still searching for heirs apparent for Peyton Manning at QB, and Pat Bowlen as owner and these are unfortunately problems that can't be fixed with Mile High Magic. Rebuilding this organization to its Championship standard is going to take time, and to say that a turnaround will come this year or the next might get clicks, but the truth is we won't know until cleats hit the turf.
While there are questions, there will be answers in turn. Bringing new vision and leadership was a great move by Elway, and it appears Paton has already hit the ground running. With an offseason ahead full of potential, our new GM is well-positioned to follow the blueprint for success and vault this team back into contention.
The roster is brimming with young talent, and though we are facing what could be perhaps the toughest division in football in years to come, the Broncos have always been masters of the comeback.
We have to find a way to compete with Patrick Mahomes for the next decade, but he looked surprisingly mortal in Tampa Bay. Generating pressure with four and dropping three defensive backs deep was an effective formula, and you'd better believe Fangio will be studying that film overtime this offseason.
Though we're still searching for our franchise QB, we seem to be staying in the thick of trade talks as Paton sits at every table. There's also still the chance Drew Lock can find some consistency as he approaches his first offseason since college with the same OC in back-to-back years. We're also well situated at 9th in the Draft to go get someone if Paton sees his franchise QB on the board.
I do truly believe that the past few seasons of struggle will one day be a fading memory. A few lost years of succession won't define this franchise as we enter a new era of Denver Broncos football. It's going to be a process but when we turn that corner, the dog days of this franchise will melt away faster than a 10″ snowdrift on the sunny day that always follows.
Hang in there Broncos Country.