Denver Broncos: Building a Super Bowl team in the modern NFL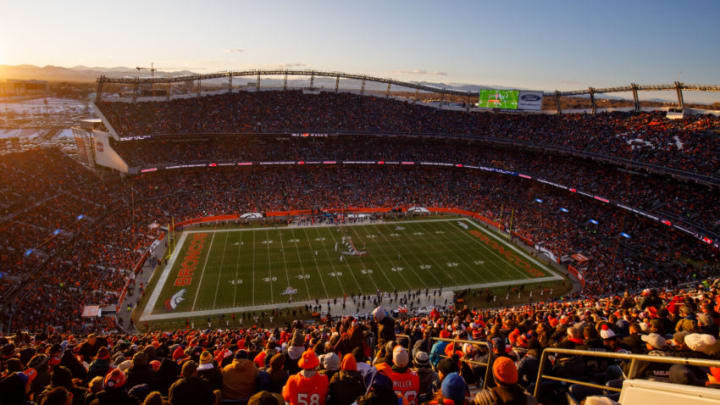 DENVER, CO - DECEMBER 29: A general view of the stadium as the Denver Broncos drive against the Oakland Raiders while the sun sets during the third quarter at Empower Field at Mile High on December 29, 2019 in Denver, Colorado. The Broncos defeated the Raiders 16-15. (Photo by Justin Edmonds/Getty Images) /
Denver Broncos Super Bowl 50 (Photo by Al Bello/Getty Images) /
The Denver Broncos have three Super Bowl Wins and eight appearances in their sixty-plus years in the league. This is a championship franchise, and though the years since Peyton Manning have been the toughest this team has seen since 1972, new GM George Paton is already grinding away to right the ship.
While Broncos Country sits in anticipation for the Deshaun Watson sweepstakes, free agency, and the draft, now seems like a good time to take a look at what exactly it takes to win the 'Chip this day and age. It's easy to look at regular season stats and wins, but for a franchise like this, Lombardi Trophies are the most important metric.
In the past 10 years, we've seen the increasing dominance of the passing game, along with QB mega-contracts ever-inflating the market. The business of the NFL in the last decade has become increasingly concerned with salary cap acrobatics and creative roster building, so with that in mind, I've broken down the last 10 years of Super Bowl rosters in three key phases.
Looking at team performances, acquisition of talent and positional spending will hopefully outline the blueprint for success on the biggest stage. We're going to look at both what kinds of teams win and how they are put together. From the 2011 Giants to the 2020 Buccaneers, there's a lot to learn here about what it takes to be a World Champion.
Super Bowl Team Performances
Key Defensive Metrics: 
Average Scoring Defense Rank: 7.7
Average Points Allowed Per Game (playoffs included): 19.3
The old adage is that defense wins championships, and there does seem to be a lot of truth to that. The average points ranking of each defense was in the top quarter of the league, and four of the teams were in the top four among their peers. Being able to shut down your opponent is as important as ever, and even the pass-heavy 2019 Chiefs were able to lean on a defense that held opponents to under 20 points a game.
While we've seen units like the Legion of Boom, the No-Fly Zone, and Bill Belichick's signature throttling defense take over Super Bowls, it truly goes without saying that being able to produce on offense matters just as much.
Key Offensive Metrics:
Average Offense Rank (Points): 6.8
Average Points Per Game (playoffs included): 27.6 
The average points per game ranking of each winner sit just a notch higher than points against. All but the 2015 Broncos were in the top third of the league in this category, though that Super Bowl was a true defensive victory. Our 2015 squad is also the only team with a negative turnover differential, but a stifling #1 pass defense and pass rush unit that led the league in sacks were enough to carry the team to a beatdown of the Panthers.
Outside of that, finding a top-flight offense is an obvious key. Looking at the Super Bowls themselves, six out of 10 winners have scored over 30 points in the big game, while just one (2018 Pats) have scored under 20. Compared to the five teams who held their opponents to under 20 in the past decade, it seems that high-powered offense just barely edges out defense in this balance.
Selling the farm for one side of the ball does not seem to work, and maintaining a balance of high-performing units appears to be key.
Takeaways
So what does this mean for our Broncos? The focus since 2015 has been on defense, as we've seen two defensive coaches take the reins and almost all of our hallmark players have been on that side of the ball. With 12 All-Pro and Pro Bowl nods on the defense, and just five on offense since 2015 that's where our star power and a good chunk of our money has been.
While we've had the top red-zone defense two years standing under Fangio, there is still room to improve as our sack and turnover production have dropped and this team has suffered some brutal blowouts. With Von Miller, Justin Simmons, Kareem Jackson, and Shelby Harris contract decisions looming, we'll have to hope that Paton can maintain our defensive core, or supplement it in the draft and FA.
However, the impetus moving forward has to be honing in our offense, finding reliable play under center, and setting our myriad of weapons loose so we can again become a top-scoring team in this league. With so many young weapons still on rookie contracts, the time to capitalize on this wealth of talent is sooner rather than later.