On Today's Date In History: Denver Broncos win Super Bowl XXXIII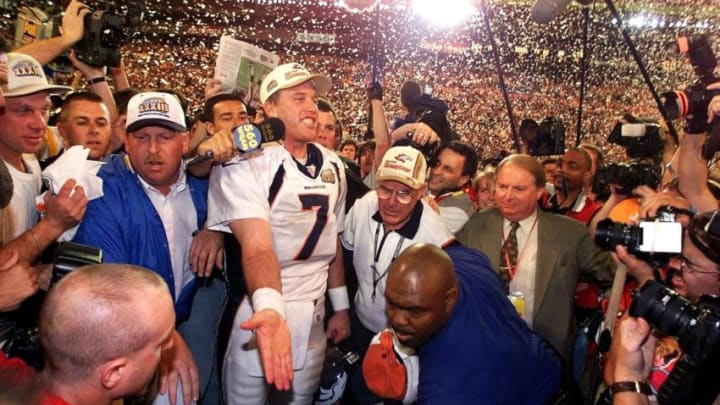 Denver Broncos quarterback John Elway, MVP of the Super Bowl, is surrounded by the media after beating the Atlanta Falcons in Super Bowl XXXIII 31 January in Miami, FL. The Broncos defeated the Atlanta Falcons 34-19 for their second consecutive championship. (ELECTRONIC IMAGE) AFP PHOTO (Photo by STEPHEN JAFFE / AFP) (Photo credit should read STEPHEN JAFFE/AFP via Getty Images) /
Though for some, it may feel like yesterday, and it may feel like decades ago for others, today's date (January 31st) is a significant date in Denver Broncos' history.
22 years ago today, the Broncos defeated the Atlanta Falcons 34-19 in Super Bowl XXXIII to capture their second consecutive title.
The Super Bowl XXXIII victory also made the Denver Broncos the sixth of seven current franchises to win back-to-back Super Bowls, though the Kansas City Chiefs are currently in position to be the eighth franchise with a victory in Super Bowl 55, and the first to repeat since the 2003-04 New England Patriots.
As Broncos Country patiently awaits the time the Broncos will return to dominance, let's relive the past and celebrate a special day in team history.
Some fun facts about Super Bowl XXXIII:
The Denver Broncos entered the playoffs as the No. 1 seed in the AFC, with a record of 14-2, their best record in franchise history.
Super Bowl XXXIII was the last game where back-to-back Super Bowls would be played outdoors until Super Bowl XLIII-XLIV.
When the Denver Broncos started the season 13-0, many thought the team would finish with a perfect record. However, they would fall to the New York Giants after 13 straight wins, but only losing one more game outside of that.
The '98 Denver Broncos were bolstered with Pro Bowlers- QB John Elway; RB Terrell Davis; TE Shannon Sharpe; WR Ed McCaffrey; LT Tony Jones; LG Mark Schlereth; C Tom Nalen; LB Bill Romanowski; S Steve Atwater; K Jason Elam.
1998 was also Hall of Fame back Terrell Davis' best, with 2,008 rush yards, capturing him league MVP and NFL Offensive Player of the Year.
The Atlanta Falcons also came into the matchup 14-2, a huge jump from their 1997 finish with just a 7-9 record the prior season, where the Broncos had finished their prior season 12-4, and captured their first Super Bowl victory.
The Atlanta Falcons were coached by Dan Reeves, former coach of the Broncos.
The Broncos were a -7.5 favorite coming into the game.
The national anthem was performed by Cher, and the halftime show performed by Gloria Estefan, Stevie Wonder, and Big Bad Voodoo Daddy.
The Broncos entered the fourth quarter with a 24-6 lead, and there was not much doubt as to who would be hoisting up the Lombardi when time expired.
Terrell Davis rushed for 102 yards, becoming the third player in NFL history to rush for over 100 yards in back-to-back Super Bowls.
John Elway finished the game with 18 of 29 completions for 336 pass yards and one touchdown. At age 38, Elway would become the oldest player in NFL history to win a Super Bowl MVP (until Tom Brady in 2017).
More from Predominantly Orange
Of course, the most notable part of Super Bowl XXXIII was that it would be John Elway's final rodeo. Elway would announce his retirement shortly following, capping one of the best careers by a quarterback of all time, and cementing his legacy as a Hall of Fame QB.
Of course, we know that this may have been Elway's final game as a player, but was far from his last hurrah with the Broncos. Elway would serve as the Broncos' GM and Head of Football Operations from 2011-2021, when he would relinquish his duties as GM and take a lesser role in the organization to spend more time with his family.
Elway would win a Super Bowl in Super Bowl 50 with the Broncos in 2015, his third with the team and first and only in management.
Of course, as Super Bowl 55 approaches, and Broncos Country has to watch an old-time nemesis in Tom Brady and the Tampa Bay Buccaneers battle divisional rival Patrick Mahomes and the Kansas City Chiefs, fans may feel dispirited, and may be feeling nostalgic and missing the old days.
I think most of Broncos Country is on the same page. While the Broncos may or not be a few steps away from returning to greatness, enjoy the history of today, and get that nostalgia you are longing for with remembering Super Bowl XXXIII.