Denver Broncos: 10 defensive prospects to consider in 2021 NFL Draft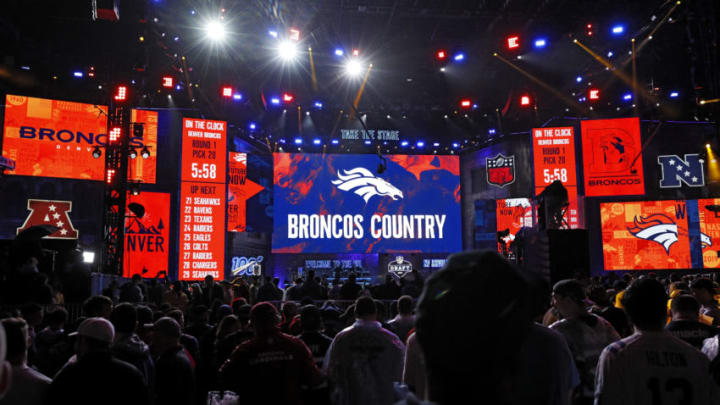 NASHVILLE, TN - APRIL 25: General view as the Denver Broncos wait to select during the first round of the NFL Draft on April 25, 2019 in Nashville, Tennessee. (Photo by Joe Robbins/Getty Images) /
Denver Broncos 2021 NFL Draft prospect Caleb Farley. (Photo by Michael Reaves/Getty Images) /
Denver Broncos: 10 defensive prospects to consider in 2021 NFL Draft.
Thankfully in the first few rounds of the 2021 NFL Draft, numerous players could bring energy and playmaking to the Denver Broncos defense. Denver has many decisions to make regarding Justin Simmons, Shelby Harris, and a few others on the defense. One such decision will be cornerbacks. As the saying goes, "you can never have too many cornerbacks."
Denver's new cornerback A.J Bouye had his fair share of ups and downs, but with a suspension lingering into next year for two more games, the question becomes his place on the roster. Thankfully there are plenty of players to choose from in this year's 2021 NFL Draft.
Also in the NFL Draft, this year could be one to watch at the edge rusher position despite a great season for Malik Reed's standards and Jeremiah Attaochu providing more terrific depth to the pass rush. Two particular players could bring impact and a chance to look at life after Von Miller. Miller's contract is up after the 2021 season, but the team has an option this offseason.
Miller becomes an unrestricted free agent in 2022, but it's possible he will not be on the team in 2021 if he doesn't alter his contract. It is hard to picture life without Miller on the Denver Broncos and one that still seems unlikely. However, with a current change of the guard up top with the front office there are plenty of questions that need to be answered.
The last group of positions we will focus on is linebacker. Justin Strnad certainly can change the narrative of this. Yet, with his late-round selection, the Denver Broncos can still afford to upgrade the position. Some players bring versatility and potential to the linebacker spot on the roster. Some are located inside the top ten that qualify as blue-chip prospects.
Who are these prospects? Let us take a look.
Caleb Farley, CB Virginia Tech
As mentioned and throughout this slideshow, the Denver Broncos will have questions surrounding the secondary and not just at the cornerback position. Since the depth of the Broncos was severely tested throughout the year it would be imperative the team look at upgrading cornerback even with a looming decision on A.J Bouye.
Thankfully the cast of characters to choose from runs deep this year for corners. Some incredibly talented prospects could be available even in the second round.
One of the more complete prospects defensively is Caleb Farley. Farley brings a physical toughness to him while adding ball skills to his toolbox. He understands his responsibility in man coverage and does a decent job knowing the zone. Man is probably his best area, with work needed on his zone defense. Vic Fangio has made it an emphasis he loves zone coverage schemes.
However lately he has not had a potential true shutdown corner on his defense except for Kyle Fuller in 2018 (with the Bears). Fuller was a Pro Bowler and 1st team All-Pro. Farley can bring that same potential. Mixed with questions surrounding Bouye and Bryce Callahan's injury history Denver would be wise to address this in free agency or draft.
Farley does have some injury history that comes with him. However, the bulk of his injury bug was an ACL injury in 2017 and then two games in 2019 due to back spasms. Also, there are some concerns regarding tackling but with the toughness he brings as a prospect, it would be an easy transition for him to be taught by Ed Donatell, Fangio, and Renaldo Hill.
The tackling could be the turn-off for Fangio and Co. which might make them turn their sights to another position of impact or another corner.