Denver Broncos losing Albert Okwuegbunam to torn ACL is huge blow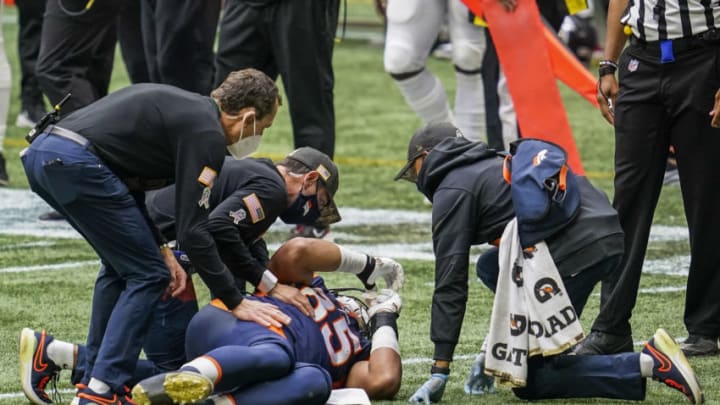 Nov 8, 2020; Atlanta, Georgia, USA; Denver Broncos tight end Albert Okwuegbunam (85) is assisted after being injured against the Atlanta Falcons during the second half at Mercedes-Benz Stadium. Mandatory Credit: Dale Zanine-USA TODAY Sports /
The Denver Broncos lost Albert Okwuegbunam for the rest of 2020 with a torn ACL.
The Denver Broncos will have to press on for the remainder of the 2020 season without stud rookie tight end Albert Okwuegbunam.
Okwuegbunam was fighting for extra yardage on a 3rd-and-6 play against the Atlanta Falcons when he went down with a knee injury. Although it didn't appear as though Okwuegbunam was being pulled down awkwardly, he immediately clutched his knee in pain after the play, a clear indicator that something bad had happened.
To his credit, Okwuegbunam moved the chains, doing what he does best, on his final play of the 2020 season.
Every week, there seems to be some kind of major Denver Broncos injury news. This news, in particular, is a blow to the gut.
Okwuegbunam was emerging as truly one of the best rookie tight ends in the NFL and frankly, he has been the best of all of the rookie tight ends even in a limited sample. His athleticism and mismatch abilities in the passing game were slowly starting to become a focal point of the Broncos' passing attack.
With Courtland Sutton already down for the season, Okwuegbunam's involvement was one of the things Broncos fans had to look forward to on a weekly basis.
No more.
His rookie season will end with 11 receptions for 121 yards and a touchdown that helped the Broncos come back and beat the Los Angeles Chargers.
Okwuegbunam's injury is the latest for the Denver Broncos among a wide variety of injuries that have proven to be back-breaking for this team.
Against the Atlanta Falcons, the Broncos were without seven of their projected starting defensive players to open the 2020 season. Although Okwuegbunam was not a 'starter' on the offense, he was playing significant snaps with Jake Butt and Andrew Beck on IR, and he would have continued out-snapping them even upon their return to the active roster.
The Broncos now only have Noah Fant and Nick Vannett healthy at the tight end position on the active roster. It's expected that this week, they will finalize the addition of Troy Fumagalli, who will presumably join the practice squad.