Denver Broncos: Michael Ojemudia hoping to break a disturbing draft trend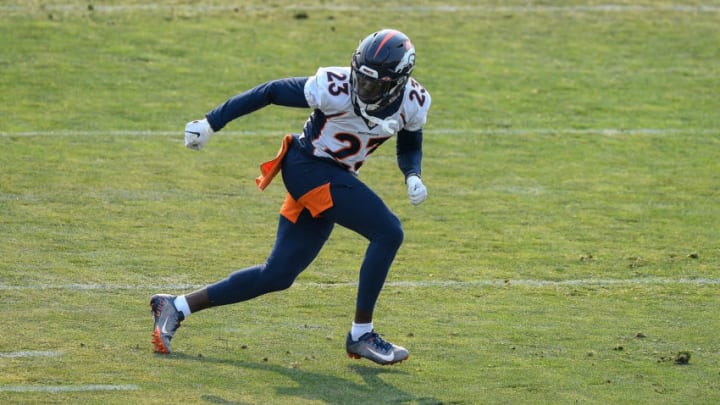 ENGLEWOOD, CO - AUGUST 16: Cornerback Michael Ojemudia #23 of the Denver Broncos participates in a drill during a training session at UCHealth Training Center on August 16, 2020 in Englewood, Colorado. (Photo by Dustin Bradford/Getty Images) /
The Denver Broncos have struggled to draft serviceable cornerbacks in the third-round. Here's why Michael Ojemudia can break that trend.
In the last four NFL Drafts, the Denver Broncos have selected three cornerbacks, all of which were selected in the third round. After the trade of former Boston College corner Isaac Yiadom last night to the Giants for a seventh-round draft pick, Denver only has one of those corners still on the roster; 2020 selection Michael Ojemudia.
Considering that Ojemudia was considered a slight draft reach by many draft experts, it is fair for Denver Bronco fans to wonder if Elway is about to go three for three on drafting cornerback busts in the third round in recent history.
He's not, and we will explain why but first let's take a quick look back at the previous two failures starting with Brendan Langley.
Langley was a small-school corner who was quite raw coming out of school but possessed great size and tantalizing speed. Is that worthy of a third-round pick? I would argue not, especially when eventual All-Pro Desmond King was still on the board, and the next two years would make that quite evident. Over two seasons, Langley played in 16 games, starting none, and only registered six tackles total.
He then attempted to make the switch to wide receiver, which ultimately failed, and he was released. Langley isn't currently in the NFL.
The year after Elway selected Langley, he took a shot with Yiadom, a corner who was projected in the third to the fourth round range. Like Langley, Yiadom possesses good size with slightly slower straight-line speed, but he was considered less of a project than the Lamar draftee.
Yiadom struggled to get on the field in his rookie season as the Denver Broncos had Chris Harris Jr. and Bradley Roby firmly entrenched in the starter roles. After appearing in just 24% of defensive snaps, Yiadom was expected to see an uptick in time heading into year two with Roby signing with the Texans. The playing time did increase (up to 48% of all snaps which included 8 starts), but Yiadom still struggled with penalties and inconsistency.
During the 2019 season, Yiadom allowed 39 catches on 54 targets and recorded a dismal 50.9 Pro Football Focus rating.
With year three on the horizon, the Denver Broncos traded for AJ Bouye, re-signed surprising breakout player De'Vante Bausby, and selected Iowa's Ojemudia in the third. It was clear that Yiadom's seat was getting a bit warm at this point, and with cuts on the horizon, Denver shipped out the third-year corner after failing to impress in training camp.
So what makes Ojemudia different than the past two cornerback draftees?
First, Ojemudia was the only corner to be selected in the Vic Fangio-era, meaning this is a Fangio type of corner. Fangio wasn't around when Elway selected Langley or Yiadom. Say what you want, but coaches like to have their guys.
Second, his weaknesses are not at the same level as Langley (raw, poor technique) or Yiadom (poor technique, too aggressive, poor instincts). Ojemudia's main weakness was his little to no experience in man coverage and relatively poor ball skills with his back to the line of scrimmage. However, at the Senior Bowl, he performed well in man coverage drills, and I would rather have poor ball skils over poor technique any day.
Third, and this is the most important part, the Denver Broncos aren't exactly envisioning Ojemudia as cornerback three in year one. They are looking to utilize his versatility to line him up all over the field similar to how they used safety Will Parks. While this might seem a bit weird to non-Iowa Hawkeye fans, it is not.
Coming out of high school, the Farmington Hills, Michigan native was a linebacker, and at Iowa, they were experimenting with playing him in a dime-backer role. Despite the experimentation, the Hawkeyes ultimately kept him on the outside because unlike many college football programs, they predominantly operate out of a base 4-3 package. Furthermore, with Iowa playing primarily zone coverage, Ojemudia has a developed skill set that could allow him to play a hybrid safety/corner role in a Vic Fangio scheme.
Tying those three points together, Michael Ojemudia is a guy that Vic Fangio and John Elway specifically sought out. He was a multi-year starter for the Iowa football team who continually improved. An engineering major, he is a smart player who learns quickly, and the team has a specific plan in place to make him successful.
For these reasons, I believe he can break the trend of poor third-round cornerback drafting by John Elway the last few seasons, and in a few weeks, we will begin to find out if my belief was well-placed.