Broncos investing in mental health to support players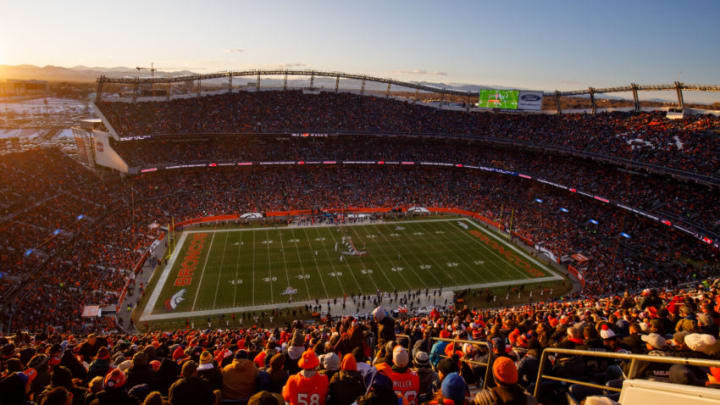 DENVER, CO - DECEMBER 29: A general view of the stadium as the Denver Broncos drive against the Oakland Raiders while the sun sets during the third quarter at Empower Field at Mile High on December 29, 2019 in Denver, Colorado. The Broncos defeated the Raiders 16-15. (Photo by Justin Edmonds/Getty Images) /
The Denver Broncos invested in their players' physical health with the world-renown Loren Landow, and how have placed the same emphasis on mental health.
The Denver Broncos hired Dr. Nicole Linen as the team's full-time Behavior Health Specialist. Her role will help the team and its players strategize ways to support improvement and maintenance in the overall mental health of the players.
Like many of us, world-class athletes experience the same kinds of stressors and challenges.
""Although participation in athletics has many benefits, the very nature of competition can provoke, augment, or expose specific psychological issues in athletes. Certain personality traits can aid in athletic success, yet these same traits can also be associated with mental health (MH) disorders."– Chang, C.J., Putukian, M., Aerni, G., Diamond, A.B., Hong, E.S., Ingram, Y.M., Reardon, C.L. & Wolanin, A.T., Clinical Journal of Sport Medicine: March 2020 – Volume 30 – Issue 2 – p e61-e87"
To be successful, the Broncos began to build a plan to support their athletes with the addition of Dr. Linen.
Though many people may not value the increased mental health supports for the athletes of this caliber due to their financial position, one can look at the turnarounds of former Bronco wide receiver Brandon Marshall and current superstar Von Miller.
Brandon Marshall (wide receiver) was able to manage the significant challenge of a bipolar disorder diagnosis to earn multiple Pro-Bowl nods. Though Miller did not communicate significant mental-health diagnoses, his life and career seemed to be at a crossroads in the 2013 offseason.
Mental health planning and supports could have kept Marshall in Denver and kept Miller from sliding before his 2015 superstar breakout.
""I think there's been an increased recognition in the sports medicine community over the past couple of years of how important behavioral and mental health issues are today, especially with young people,"– NFL Chief Medical Officer Dr. Allen Sills"
The Broncos have seemed to recognize the current state of the world and the added pressure these young men are under and are doing something to help anticipate the needs of their players.
There may not be a better time to have mental health supports in place in light of social unrest, bigotry, COVID19 challenges, and the adjustment to a "new normal".
As we have seen, the challenges of this season cause a psychosocial dilemma for players who opt-in or choose to opt-out, such as Broncos defensive tackle Kyle Peko.
These athletes are people carrying their life experiences with them and may need support to keep themselves healthy.
Additionally, to succeed at the highest level, professional athletes must hold higher self-esteem than the general population.
Dr. Linen can help athletes work their failures to restore confidence.
Most players are at a greater risk for depression, anxiety, social anxiety, and negative physical symptoms, all of which may impede performance.
Hesitation and doubt may limit performance. Just like the rest of us, if we doubt we can achieve a goal, we often will fail to reach it.
How can Dr. Linen help the mental health of the Broncos?
She can help players remain confident and cope with their doubts when their play or personal life may disappoint at the moment.
In her role, she will be tasked with supporting the team to learn to focus and manage their distractions.
She can help each player or coach develop skills necessary to deal with failures, setbacks, and errors.
With the condensed season, Dr. Linen can help the team visualize the successful act of performing a task, which can lead to successfully performing on the field without the practice reps.
Additionally, Dr. Linen can support the players in learning to self-regulate in unprecedented times. This can lead to the ability to focus on what is controllable and believe in their actions to optimize performance.
Once learned, these techniques allow the athlete to relax and to focus his/her attention positively on the task of preparing for and participating
When the previous steps occur, players can find their optimal performance and zone of intensity to produce at the highest level.
Dr. Linel can also help the Vic Fangio and other coaches improve game-specific strategies by understanding the mental well-being of their players.
It is really exciting to see the Broncos become leaders in how they operate.
Kudos to John Elway and company in reinvesting in their players and it could pay dividends on and off the field.