Denver Broncos players sound off on NFL's lack of 2020 plan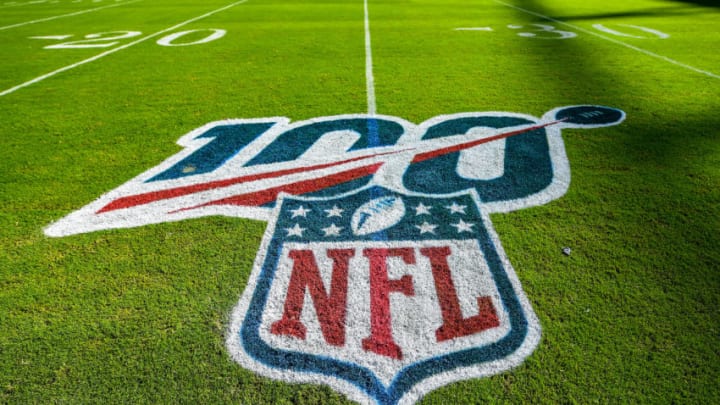 MIAMI, FLORIDA - SEPTEMBER 08: A detailed view of the NFL 100 logo on the field prior to the game between the Miami Dolphins and the Baltimore Ravens at Hard Rock Stadium on September 08, 2019 in Miami, Florida. (Photo by Mark Brown/Getty Images) /
A couple members of the Denver Broncos have sounded off on Twitter regarding the NFL's lack of plan due to coronavirus.
Oh, what a world we live in. There is so much uncertainty in the world, including sports and two Denver Broncos players have sounded off against the NFL for the league's lack of a plan.
Infectious Disease Emergency Response has approved proposals from all 32 teams regarding plans going forward, but some players have spoken out about the approved proposals not being good enough.
With a couple of leagues drastically changing and even delaying operations, the urgency to do something regarding the safety of the players and staff is just not there from the NFL.
DeMarcus Walker and Kareem Jackson had something to say regarding this.
There has been talk about giving the players the option to opt-out of the 2020 season, but there is still much uncertainty regarding some of the protocols for the season.
Texans defensive lineman J.J. Watt laid it out like this:
All of those are great points. We do not know the health situations of a lot of players. We certainly do not know the health situations of people these players and coaches are related to or close to. In fact, any person can come into contact with somebody with the virus at any given time — that obviously includes off the field.
This is a dangerous thing to play with. Of course, the NFL intends to play a full season due to the fact that if they don't, they are going to lose out on profit. I do not blame them but the health of players and coaches is what should matter here. The health of human beings needs to matter more than anything.
The NFL has given teams the option to limit stadium capacity during games. That's great. But what if some teams don't do that? What if there are enough people at a game where many more are affected by coronavirus?
This is a dangerous thing and it is no joke. Players across the league are stepping up and calling out the league regarding their lack of movement on a plan. Hopefully, these things get sorted out. Hopefully, the number of people affected by coronavirus reduce soon.
Latest Proposal
Both sides are still trying to figure out the best way to go about things and the latest proposal by the NFL is to have just one preseason game, rather than two.
Limiting the number of total games—whether they count—is a smart way to help things out while still proceeding with a season. It is just now a matter of continuing to figure out what is the safest course of action. We cannot rule a lot off the table as of right now.
To be continued.