Denver Broncos end 2019 season with a lot of promise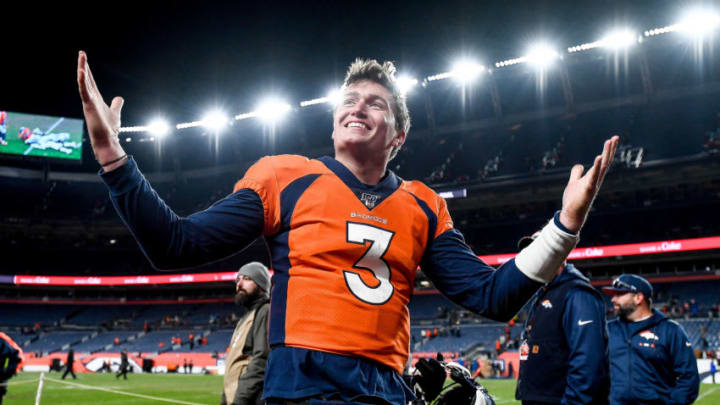 DENVER, CO - DECEMBER 29: Drew Lock #3 of the Denver Broncos walks off the field after a 16-15 win over the Oakland Raiders at Empower Field at Mile High on December 29, 2019 in Denver, Colorado. (Photo by Dustin Bradford/Getty Images) /
The Denver Broncos might not be going into the playoffs this season, but there is a lot of promise for this team after finishing their season.
For the fourth straight season, the Denver Broncos will not be playing January football. But I believe for the first time since in a long time, there is a lot of promise going into the offseason for Broncos Country.
It took a big time play from a pending free agent to ensure the Denver Broncos would finish the season with some big momentum. But Denver has secured their seventh win of the season. And for the first time since 2016, the Denver Broncos will finish with less than ten losses.
It was really close to heartbreak for the Denver Broncos as they had a pretty significant lead going into the fourth quarter. But the Oakland Raiders made it interesting at the end. After missing a long field goal, the Raiders were given solid field position and were able to score a touchdown with seven seconds to go in the game.
Instead of playing for overtime, Jon Gruden put his offense out and decided to go for the win. But Shelby Harris, with as many big plays as he's made this season, made one final play that secured the win for the Denver Broncos.
My biggest gripe of the season finale was the inability to score in the second half. Denver was able to get two field goals from Brandon McManus in the second half. But not being able to score touchdowns in the second half almost ended the season on a sour note for the Broncos.
Phillip Lindsay was able to record his second straight 1,000 yard season and the team has a lot of promise in Drew Lock as the starting quarterback. I believe he has earned the starting job going into the 2020 season.
Despite the result of the season, we hope that you enjoyed something from the 2019 Denver Broncos season. Stay with us as we will have you covered during the offseason. Here is to 2020 and beyond. Go Broncos!