Denver Broncos make third straight appearance on FanSided 250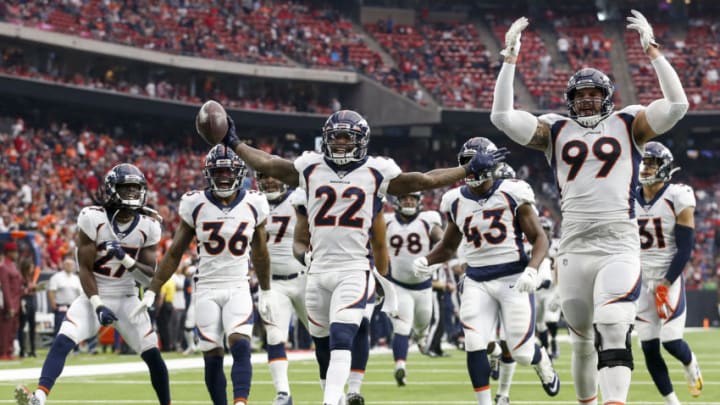 HOUSTON, TX - DECEMBER 08: Kareem Jackson #22 of the Denver Broncos celebrates with temmates after an interception in the fourth quarter against the Houston Texans at NRG Stadium on December 8, 2019 in Houston, Texas. (Photo by Tim Warner/Getty Images) /
Since 2017, FanSided has come out with a list of 250 of the best fan bases covering almost everything. The Denver Broncos have made the list once again.
The last few seasons might not be the greatest years for the Denver Broncos, but the Broncos Country fans have been downright loyal to their team. Every game has been a sellout ever since before I was even born. Having that long of a sellout streak is something to be proud of.
Every year, FanSided brings out their FanSided 250, which marks the 250 best fan bases of major sports teams, college teams, celebrities, movies, you name it. In 2019, the Denver Broncos have made their third appearance on this list.
In 2017, they ranked as the 84th best fan base. Last year, they dropped down to 152nd. This year, they have ranked as the 178th best fan base out of 250.
It does hurt to see the team's performance over the past three seasons. Which is why the latest drop in the rankings makes some sense. The Denver Broncos have dealt with a new head coaching change as well as another starting quarterback to begin the season.
And just like in 2017, the Denver Broncos have started three different quarterbacks in a season. That definitely would not sit well with fans. However, there is a bit of positivity going around Broncos Country lately. The team might have found their future quarterback in Drew Lock. The team is getting younger, so perhaps Denver will be ranked higher in next year's FanSided 250.
This year, Denver ranked as the 20th best fan base in the NFL on the list. In the division, the Broncos are behind the Raiders (11th in NFL, 96th overall) and Chiefs (4th in NFL, 36th overall) so being behind the two rivals Broncos Country are not fans of will not sit well.
Hopefully, the Denver Broncos are on the rise and we see them near the top of this list again soon. If you want to take a look at the rest of the list, you can check it out here.