Broncos add WR Jamarius Way as Romell Guerrier retires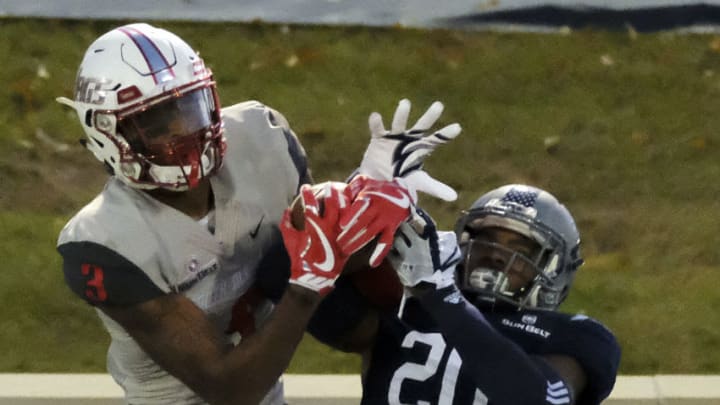 STATESBORO, GA - NOVEMBER 18: Cornerback Kindle Vildor #20 of the Georgia Southern Eagles intercepts a pass intended for wide receiver Jamarius Way #3 of the South Alabama Jaguars at Paulson Stadium on November 18, 2017 in Statesboro, Georgia. (Photo by Todd Bennett/Getty Images) /
The Denver Broncos have been on their toes in the front office through two days of training camp, adding WR Jamarius Way after Romell Guerrier retired.
The Denver Broncos' front office and scouting department has had to be on their toes through the first couple of days of training camp, making seemingly one roster move after another.
For the second time since the start of camp, the Broncos have had a young wide receiver retire. This time, it's undrafted receiver Romell Guerrier. The previous receiver to retire was Aaron Burbridge.
In place of Guerrier, the Broncos signed rookie Jamarius Way out of South Alabama.
The team reported the roster moves on Saturday morning.
Way is a 6-foot-3, 215-pound receiver who has some shades of Brandon Marshall in his game as a big-bodied receiver whose speed is not great, but after the catch, he looks like he just never wants to go down.
Guerrier, who retired, was a smaller, shifty, speedy receiver.
In two seasons at South Alabama, Way racked up 108 receptions for 1,617 yards and 11 touchdowns, averaging 15 yards per catch.
In all likelihood, Way is in Broncos camp to fight for a practice squad spot, or to put enough on tape to get a practice squad spot with another team.
It's rare for rookies that NFL teams actually covet to be available this late in the offseason, so Way has a long road ahead of him if he's going to crack an NFL roster at some point.
The good news for him, after setting some records at South Alabama, is that he's now got a chance to practice with one of the best organizations in the league, and he might get playing time in five preseason games to put some more on tape.