Denver Broncos not interviewing top quarterbacks at the Combine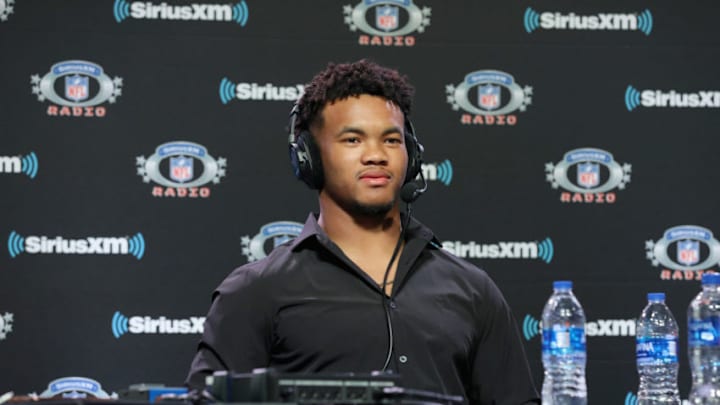 ATLANTA, GEORGIA - JANUARY 31: Kyler Murray attends SiriusXM at Super Bowl LIII Radio Row on January 31, 2019 in Atlanta, Georgia. (Photo by Cindy Ord/Getty Images for SiriusXM) /
The Denver Broncos apparently did not interview any of the first-round prospects at the quarterback position at the 2019 Scouting Combine.
The Denver Broncos are meeting with a number of prospects at the 2019 Scouting Combine, but apparently not this year's top quarterback prospects.
Wait, what?
According to Mike Klis, the Broncos have not had any formal interviews (teams are allowed 60) with any of the projected first-round quarterbacks in the 2019 class.
Is this a good thing? bad thing? normal?
What are the Broncos hoping to achieve here?
The prevailing thought is that the Broncos are using some misdirection here, but I don't agree with that. Wouldn't interviewing all four of the quarterbacks accomplish the same thing?
There have been rumors all offseason that the Broncos are obsessed with Drew Lock, so obviously they aren't too worried about what other teams do or don't know. The main issue I take with this is, if the Broncos are going to invest in one of those guys to be their franchise quarterback, should they not be exhausting all of the opportunities they have to get to know them on a personal level?
Especially for the guys like Haskins and Murray who were relatively unexpected entries into this class.
The Broncos have the opportunity to go meet these guys at their pro days, and they also have the chance, as Klis alluded to, to bring them to team facilities for a visit and pre-draft interview.
We won't overreact to this for that particular reason but it makes little sense to not spend 15 minutes with the guys when you might possibly take one to be your quarterback of the future.
After all, it was somewhat a lack of an understanding of the type of person Paxton Lynch is/was that played a role in his eventual demise with the team.
The Broncos traded for Joe Flacco in February, perhaps the greatest indicator they don't want to be forced into taking a quarterback in the first round. They might be more on board with the masses who think this year's class is not as good as 2018 and not even close to 2020's potential class.
John Elway knows he can't keep kicking the can down the road but he won't be backed into a corner, either. Flacco affords the Broncos time, and if that means waiting until 2020 to get the guy you want, so be it.
This update from Klis seems to be a solid indicator the Broncos are not as interested in the first-round players, but we'll see what happens in the coming weeks.