Denver Broncos: Behind Enemy Lines with Bolt Beat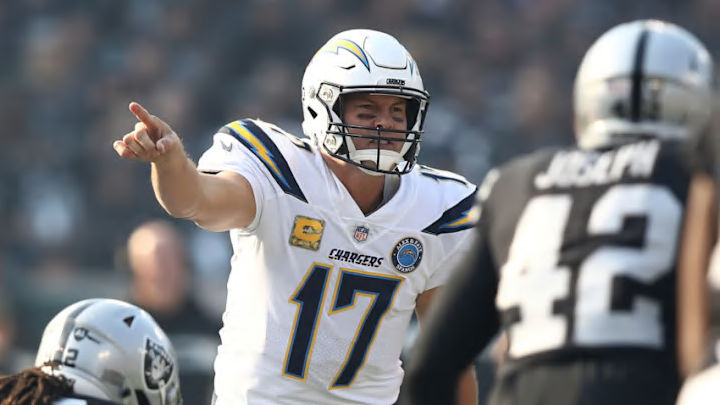 OAKLAND, CA - NOVEMBER 11: Philip Rivers #17 of the Los Angeles Chargers signals against the Oakland Raiders during their NFL game at Oakland-Alameda County Coliseum on November 11, 2018 in Oakland, California. (Photo by Ezra Shaw/Getty Images) /
I cross into enemy territory for the Denver Broncos vs. Los Angeles Chargers as I chat with Ernie Padaon from Bolt Beat to get his take on the opponent.
If the Denver Broncos are going to have any hope at making a playoff run, it starts on Sunday against the Los Angeles Chargers. Unfortunately, the Chargers have a solid team this season. After losing two of their first three games, they have put it together and won six in a row.
It seems like they are looking to head to the postseason. And it is looking very realistic for them. Phillip Rivers looks solid with some new playmakers to get the ball to. And the Chargers defense is solid on its own.
And it could spell even more trouble once Joey Bosa returns to the field. That will be a nightmare for any quarterback that goes up against the Chargers. It seems like on paper, they have it all figured out. But it will come down to if they can execute it down the stretch. The Denver Broncos will look to stop them. But it will not be an easy task.
With Denver's first meeting with the Los Angeles Chargers on Sunday, I have crossed into enemy territory over to Bolt Beat. Ernie Padaon is a contributor over at the Bolt Beat site.
I talk to him to scope out the Los Angeles Chargers and his thoughts on Sunday's matchup.
The Chargers are on a roll, winning six games in a row. What has led to this success?
The defense has been making stops and has been playing consistent. They have been forcing key turnovers and the offense just goes. Philip Rivers has the best set of players on offense that he has seen in a while and he is thriving on the field. Teams can't key in on one player like they had in the past. There are just too many weapons and too many ways that the offense will beat you. 
There have been a split of doubters and believers for the Chargers this year. What are your thoughts on the season so far?
Been a believer right from the start. This team has everything that is needed and with Joey Bosa getting back on the field, it will add an elite defender to a defense that has been getting better every week. The biggest struggle was in the kicking game and we finally put that to rest and our rookie kicker finally has brought in consistency. 
The window for Phillip Rivers is closing on a Super Bowl title. If the Chargers continue this successful path, how confident are you that he could lead them to the playoffs, maybe a title?
Playoffs is expected this season and I am confident that we can get out of the first round. The next round against a team like the Patriots, Chiefs or Steelers will be a huge test. We will get to see a couple of those teams late in the season though and it should give us a good idea if our team is ready. 
The Chargers welcome the Denver Broncos on Sunday. What does Los Angeles need to do to secure their seventh win in a row?
The Chargers will need to continue their dominance on offense and make sure to slow down the Broncos in the running game. We lost our middle linebacker for the rest of the year and it will be something that Gus Bradley and the rest of the guys will need to figure out finishing the year.
Is there a player on the Chargers' roster that not a lot know of who can make an impact on Sunday?
Austin Ekeler always seems to make a big play. Melvin Gordon gets most of the carries, but Ekeler will get a few chances with the ball and usually makes a big play. Tyrell Williams has been making big catches all year. On defense, Desmond King will likely make a big play as well. Lots of playmakers on the field for this team right now. 
Thank You Ernie for taking the time to chat with me. If you want to see what he and the rest of Bolt Beat are chatting about before Sunday's game, you can check it out here.