Denver Broncos roster overview after the 2018 NFL Draft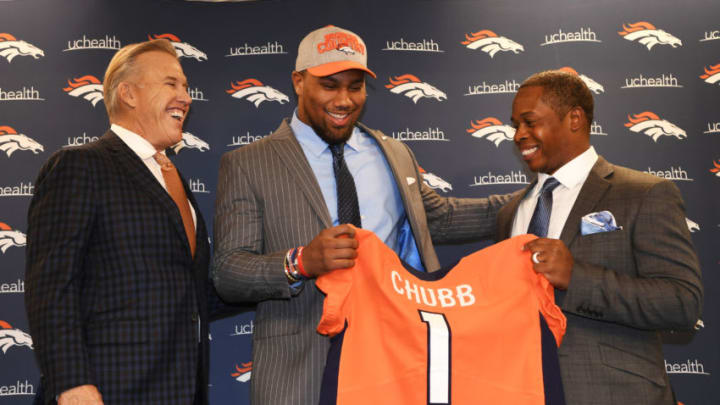 ENGLEWOOD, CO - APRIL 27: President of Football Operations/General Manager John Elway, left, and Denver Broncos head coach Vance Joseph, right, present their 1st round draft pick Bradley Chubb, center, with a Broncos jersey at Dove Valley April 27, 2018. (Photo by Andy Cross/The Denver Post via Getty Images) /
ENGLEWOOD, CO – APRIL 28: Denver Broncos second round draft pick Courtland Sutton during his introductory press conference at Dove Valley April 28, 2018. (Photo by Andy Cross/The Denver Post via Getty Images) /
Wide Receiver
The Broncos' wide receiver position got an infusion of youth in the 2018 NFL Draft when the team surprisingly was staring SMU's Courtland Sutton in the face with the 40th overall pick in the draft.
Sutton was projected by many to go as high as 15th to the Cardinals or 16th to the Ravens in many mock drafts, and typically no lower than 19th to the Dallas Cowboys. So, the Broncos seem to have gotten a steal here and a player they believe can be a future number one receiver.
Sutton joins a crew that already includes Demaryius Thomas and Emmanuel Sanders, who may be entering their final seasons with the team. If not, the Broncos will look to get some cap relief from them next year one way or another.
The combination of Thomas, Sanders, and Sutton will likely lead the Broncos this year at the receiver position, but there are other players to take into consideration for sure.
Last year's third round pick Carlos Henderson didn't see the field at all as a rookie after a thumb injury in training camp. He has been working incredibly hard this offseason, and really ramped up his training after he was booked on possession of marijuana in Louisiana.
I expect Henderson will bounce back from that and factor in as a weapon for the Broncos this year, offensively and on special teams.
The Broncos also got one of the best route runners in this year's draft in Penn State's DaeSean Hamilton, a fourth round draft pick who had the potential to be picked in the second or third round.
I recently did a feature on Hamilton highlighting a few ways he can help this Broncos team.
Another player the Broncos are hoping can make big progress this season is 2017 fifth round pick Isaiah McKenzie, whose rookie season was one to forget. McKenzie really struggled with fumbles and his confidence was shaken more and more with each gaffe.
He's got a long way to go yet, but I still like McKenzie's upside.
The Broncos return Jordan Taylor this year as well, but he's recovering from hip surgery and needs to get healthy quickly with all of the new competition coming in.
There are a number of other intriguing receivers on this Broncos roster right now, players they had brought on to last year's practice squad or signed to future deals:
River Cracraft: Slot receiver with excellent route running ability and quick feet.
Tim Patrick: Big bodied receiver and 'rebounder' who can go up and make big plays downfield or in the red zone.
Kenny Bell: Former Nebraska star receiver and returner who has great deep speed.
Jordan Leslie: Physical receiver with an intriguing blend of size and speed.
Jimmy Williams: Big play receiver and UDFA prospect out of East Carolina who could impress with deep speed.
John Diarse: Undrafted rookie out of TCU and a former LSU transfer who has a running back's body type and some YAC ability.