Notable prospects the Denver Broncos have not had for official visits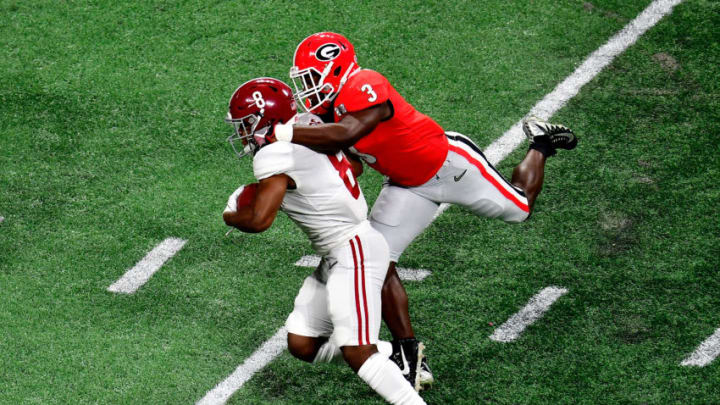 ATLANTA, GA - JANUARY 08: Josh Jacobs /
Taking a look at some notable prospects in the 2018 NFL Draft the Denver Broncos have not had to the facility for an official top 30 visit…
Pre-draft visits can mean everything, or nothing at all.
The Denver Broncos have modeled that through the years, oftentimes being as transparent about their interest in certain players as they are secretive with others.
For instance, look at the 2006 NFL Draft, where Denver did all their digging on Jay Cutler through outside sources and people who knew him, rather than Cutler himself.
Mike Shanahan traded up in the 2006 Draft to get Cutler, without ever having spoken to him personally.
On the other end of the spectrum, the Broncos have given the royal pre-draft treatment to a number of players, meeting face-to-face with players like last year's first round pick Garett Bolles on a number of occasions before ultimately picking him in the first round. They did something similar with Brock Osweiler back in the 2012 NFL Draft.
But at the same time, the Broncos have made a number of picks without bringing specific players to Denver for official visits.
Last year, the pick of DeMarcus Walker in round two was almost completely out of the blue.
Thus, it's hard to tell where the Broncos' interest in 2018 NFL Draft prospects clearly lies. They have not brought in many players who are considered consensus first round picks outside of the obvious quarterbacks who will be picked in the top 10.
Vita Vea is a player the Broncos have brought in for a visit, but there are some notable players the Broncos have been connected to that have not yet been brought in for official draft visits.
That could mean the Broncos don't want other teams to know their true intentions, or it could simply mean that they don't have interest in the player.
I would guess, in some of these cases, that the former is more likely true.
Here are some of the players of note who have not been brought to Denver for pre-draft visits yet:
Quenton Nelson, Guard, Notre Dame
Nelson is considered the best offensive line prospect to come along since Joe Thomas. He's one of the most dominant players I have ever scouted along the offensive line.
Bradley Chubb, Defensive End, North Carolina State
Chubb has put together two straight seasons of consistently dominant production at North Carolina State. He's got pass rush ability, but is also able to anchor against the run. He's a very safe prospect.
Saquon Barkley, Running Back, Penn State
Barkley is the most dynamic athlete in the 2018 NFL Draft. He's got elite size, speed, athleticism, and intangibles. He will be a game-changer wherever he is drafted.
Roquan Smith, Linebacker, Georgia
Perhaps the best all-around defensive player in this year's draft, Smith combines elite speed with great range and instincts at the linebacker position.
Lamar Jackson, Quarterback, Louisville
Jackson is a bit of a wild card, but depending who you ask, he could be the top quarterback prospect in this draft. Jackson has not had any interaction with the Broncos outside of a meeting at the 2018 NFL Scouting Combine.
More from Predominantly Orange
What does this mean?
Well, this could mean absolutely nothing. Aside from Jackson, who may need an offense shaped completely to his skillset, these could be considered the safest prospects in the draft, both from an on-field standpoint as well as off the field.
That could be the prime reason for the Broncos not bringing these guys in for official top 30 visits.
Would they be wasting their time?
I wouldn't go that far. There's no harm in getting to know a player you plan on drafting prior to actually drafting them, especially when you are using potentially a top five pick on them.
That being said, the Broncos may have gotten all the information they need from these guys with Scouting Combine meetings, pro day chats, or whatever else they have done to interact with them prior to the draft.
Still, these are some pretty notable names at areas the Broncos could look to address, including with their fifth overall pick. It should make for some pretty great drama over the next 10 days in Denver.