Denver Broncos: Looking Back At Kubiak's Time in Denver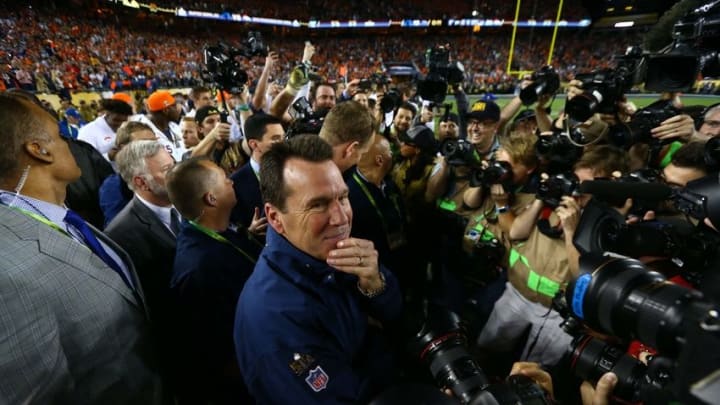 Feb 7, 2016; Santa Clara, CA, USA; Denver Broncos head coach Gary Kubiak stands with quarterback Peyton Manning (18) after defeating the Carolina Panthers in Super Bowl 50 at Levi /
With the possibility of Gary Kubiak coaching in his final game in Denver, I take a look back at his time with the Denver Broncos.
When I think of Gary Kubiak and the Denver Broncos, I see a man who has done so much for the organization.
His time as the offensive coordinator led the team to back to back Super Bowl Championships. And his return during the 2015 offseason was nostalgic to fans. His first year resulted in a Super Bowl 50 Championship.
Now it appears Gary Kubiak is prepared to put up the headset for good.
Reports are indicating that due to health reasons, Gary Kubiak will retire from coaching after the Denver Broncos' regular season finale against the Oakland Raiders.
If he does indeed step away from the game after Sunday, it will be a sad moment for me.
Gary Kubiak is one of the top five names I think about when I think about the Denver Broncos. To me, he has meant so much to the organization.
However, taking care of your health should be a top priority for anyone.
With that said, I believe that the Denver Broncos players should play inspired football today.
While his time with the Denver Broncos as head coach appears to be short, he did a lot in his short time.
He is one of the very few head coaches who led the team to a Super Bowl win in his first season coaching.
More from Predominantly Orange
While it can be a fault, his faith in his players makes me respect him more as a man. That is probably my favorite part of Gary Kubiak.
No matter what happens today in regards to the team and Gary Kubiak, he will always have a special place in the hearts of Broncos Country.
He most certainly will have a special place in mine. Wishing you nothing but the best Coach Kubaik.