Denver Broncos: Week 10 Position Grades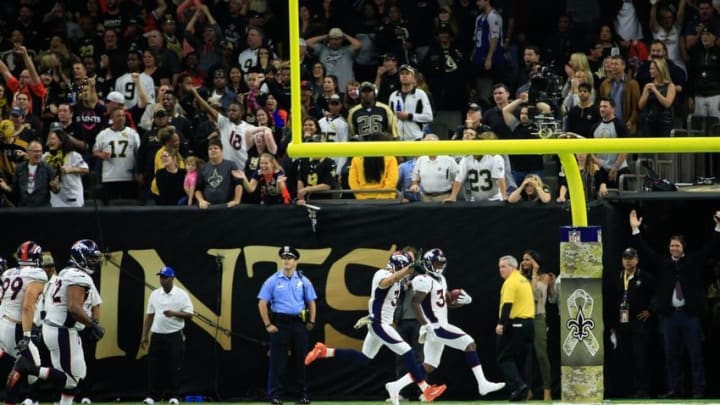 Nov 13, 2016; New Orleans, LA, USA; Denver Broncos defensive back Will Parks (34) returns a blocked extra point for two points during the fourth quarter of a game against the New Orleans Saints at the Mercedes-Benz Superdome. The Broncos defeated the Saints 25-23. Mandatory Credit: Derick E. Hingle-USA TODAY Sports /
Running Backs Grade: B-
Nov 13, 2016; New Orleans, LA, USA; Denver Broncos running back Devontae Booker (23) runs against the New Orleans Saints during the second half of a game at the Mercedes-Benz Superdome. The Broncos defeated the Saints 25-23. Mandatory Credit: Derick E. Hingle-USA TODAY Sports /
There is a glimpse of hope in the running game. Devontae Booker is starting to see some open grass behind Matt Paradis (a top five center right now) and on toss plays. Those outside runs happen quickly and fast before any defense can react. Due to success with that play, head coach Gary Kubiak needs to run it more.
The Denver Broncos catch the bye week at the right time, as Andy Janovich appears to be closer to his cast removed. Janovich helps the rushing attack as a lead blocker to create extra holes for Booker. The fullback known as "The Punisher" and "Manovich" helped Siemian on a terrific one-handed catch that would make Howard Griffith proud.
Kubiak made it known Kapri Bibbs deserved more reps in the offense. Bibbs earned it after the 69-yard reception breaking a handful of tackles for a score. The Broncos used the toss play for Bibbs as well, but the toughness became known on every run. The ex-CSU Ram finished every run with intent like his teammate Booker. It does not matter if a team is top-10 in defense that punishment over time wears down on anyone. The running game may not have looked pretty, but it looked better in weeks past. This is a good sign of momentum heading into the bye week. They received a B- grade.