Denver Broncos: Week 10 Position Grades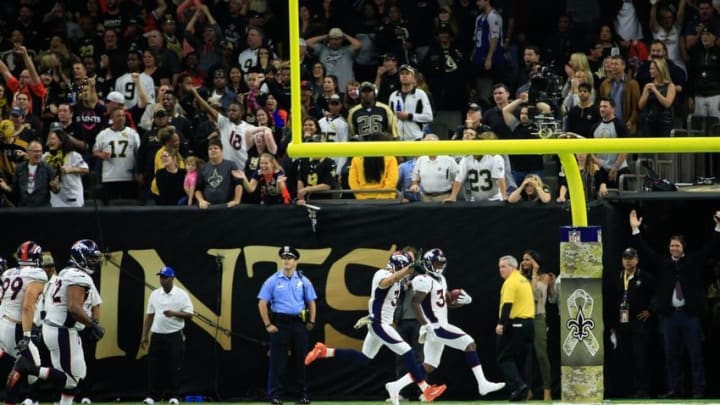 Nov 13, 2016; New Orleans, LA, USA; Denver Broncos defensive back Will Parks (34) returns a blocked extra point for two points during the fourth quarter of a game against the New Orleans Saints at the Mercedes-Benz Superdome. The Broncos defeated the Saints 25-23. Mandatory Credit: Derick E. Hingle-USA TODAY Sports /
Quarterbacks Grade: C+
Nov 13, 2016; New Orleans, LA, USA; Denver Broncos quarterback Trevor Siemian (13) celebrates after a touchdown pass against the New Orleans Saints during the second half of a game at the Mercedes-Benz Superdome. The Broncos defeated the Saints 25-23. Mandatory Credit: Derick E. Hingle-USA TODAY Sports /
Trevor Siemian took more chances and deserves a lot of credit for converting third and longs while withstanding plenty of punishment from a New Orleans defensive line. It appeared Siemian became comfortable as the game progressed, a sign he is growing as a passer and in the Gary Kubiak offense. He must take this confidence after the bye week not just to heal, but to take what he learned and apply it against the Kansas City Chiefs.
Furthermore, this performance in New Orleans parallels Siemian's game against the Cincinnati Bengals in week three of this year. In that game, he took deep shots down the field and pass to the middle of the field. One of the more criticized points for Siemian is not throwing past the sticks on third down, whether short or long distance. The problem in his performance is the Saints scored 10 points off his turnovers. Decision-making is better, but still a concern.
The progressions from Siemian must be clean in the Chiefs game when the Denver Broncos face them in week 13. His first read against the New Orleans secondary always got open, a better secondary punish him for the telegraph throws for an interception. Kubiak needs to install double moves from Emmanuel Sanders and Demaryius Thomas to help Siemian.
Also, Siemian must add a pump fake to his repertoire against Marcus Peters. Peters will jump routes and take chances because that is who he is as a defensive back. Siemian graded out at a C+.