Denver Broncos: NFC Playoff Predictions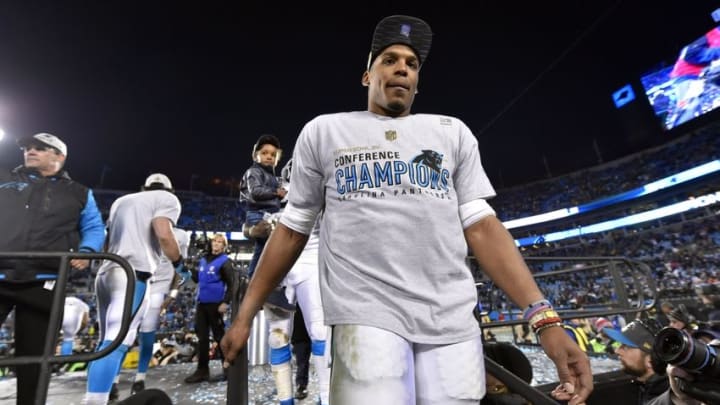 Jan 24, 2016; Charlotte, NC, USA; Carolina Panthers quarterback Cam Newton (1) celebrates after beating the Arizona Cardinals in the NFC Championship football game at Bank of America Stadium. Mandatory Credit: Bob Donnan-USA TODAY Sports /
David Robinson: Contributor
Oct 2, 2016; Atlanta, GA, USA; Atlanta Falcons quarterback Matt Ryan (2) celebrates after their game against the Carolina Panthers at the Georgia Dome. The Falcons won 48-33. Mandatory Credit: Jason Getz-USA TODAY Sports /
1. North-Vikings 12-4
2. West – Seahawks 11-5
3.  South – Falcons 11-5
4. East – Eagles 11-5
5.  WC1 – Packers 10-6
6.  Wc2 – Panthers 10-6
Explanation: Strong defenses make strong teams.  That is what it takes to make it to the playoffs.  The Vikings knew they have all the personnel they needed this year to make a play-off run and traded heavily to acquire Sam Bradford.
Throughout their first 4 starts, the Vikings defense have minimized their opponents QB play, making NFL MVPs Cam Newton and Aaron Rodgers look like amateurs.  That is why they take the top spot.
Barring an aggravation to Russel Wilson's knee, the Seahawks are easy favorites for their division.  The Cardinals are imploding at 1-3 and with Carson Palmer in concussion protocol, they are looking to fall .  The 49ers and Rams offense is lukewarm.  However, the Rams seem to be upsetting on a baffling run with three wins in a row under their belts.  Can they continue to win?  Or, more importantly, does Jeff Fisher want to win?
Falcons QB Matt Ryan and WR Julio Jones have a dynamic unmatched in the NFL right now.  Ranked the #1 offense, I see the Falcons continue to beat their opponents by putting the points on the board.
The Eagles defense shut down Ben Roethlisberger and Antonio Brown allowing 0 points in their week 3 game. The Eagles go into Week 4 with a bye with a 3-0 record.  They are ranked Top 5 for their defense right now, and there's no reason to think that'll change.  As Wentz becomes more comfortable through this season, expect this interception-less young rookie to continue to lead the Eagles to the play-offs.
Wildcard:  I wouldn't count the Packers or Panthers out just yet.  I'll give them the benefit of the doubt, and anticipate that they'll get back to speed.