Peyton Manning Documentary "The Timeline" Airs Tonight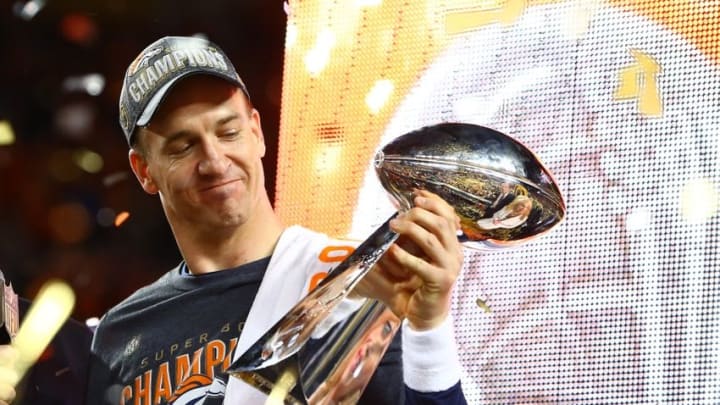 Feb 7, 2016; Santa Clara, CA, USA; Denver Broncos quarterback Peyton Manning (18) hoists the Vince Lombardi Trophy as he celebrates after defeating the Carolina Panthers in Super Bowl 50 at Levi /
Tonight on NBC, NFL Network's "The Timeline" will document Peyton Manning's 2013 season.
In the 2013 season, Manning and the Denver Broncos had a record-breaking offense whose season ended with a bad taste in their mouth. Despite not winning Super Bowl 48, Manning still played out of his mind totaling 55 TDs and 10 INTs earning him his fifth most valuable player award. One of those touchdown passes came to now Jacksonville Jaguar tight end, Julius Thomas.
Manning was always the ultimate prankster on the Broncos. In this episode of "The Timeline," current wide receiver Demaryius Thomas, Wes Welker and Eric Decker attempt to prank the Hall of Fame quarterback by taking his shirt off for a photo-shoot.
Also in the episode, we get a great look at the relationship among the Manning brothers and David Cutcliffe. Cutcliffe opened his doors at Duke University for Manning and his Broncos teammates to utilize those facilities in the offseason. Manning's passing camp was a staple during his four-year time with the Broncos.
Manning would set a precedent of wins, championships and Super Bowls over a four year span, only equaled or better by a few teams in the history of the NFL. The Broncos under Manning would reach two Super Bowls, two AFC Championships and the postseason all four years he was here in Denver. Manning gave the Broncos a winning culture that would attract free agents to come to the Mile High City and build a stronger legacy with their Hall of Fame quarterback and hopefully the future. In Manning's short time with the Broncos, his career compared well to the Indianapolis Colts.
Be sure to set your DVRs to record for the 9:00 PM MTN time slot of "The Timeline" tonight.