Day 19: Broncos Training Camp Observations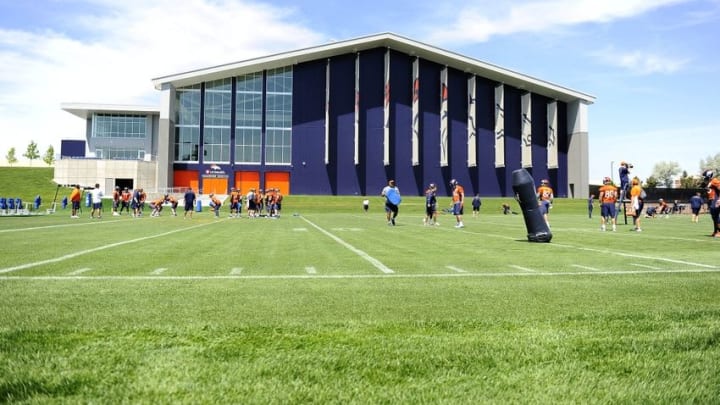 Jun 7, 2016; Englewood, CO, USA; General view of the UCHealth Training Center during the Denver Broncos mini camp drills at the UCHealth Training Center. Mandatory Credit: Ron Chenoy-USA TODAY Sports /
In case you have not heard, the Broncos are in need of a starter at quarterback. Mark Sanchez has not been running away from Trevor Siemian who has not had meaningful playing time in his early career. But the future for the Broncos could be the gunslinger, Paxton Lynch.
Sanchez remains the only veteran quarterback on the roster, but his play in practice is not indicative of starter material for the Broncos. The 29-year old, Sanchez is capable of running the offense head coach wants to run due to enough mobility to escape the rush and throw the ball away when the pressure is there. He threw the ball away more today; however, Sanchez inability to move the ball against the number one defense will not win many reps.
The preseason games for Siemian are as meaningful this year, as was the case last year. If you were to tell me, Trevor Siemian would benefit more under Hall of Fame quarterback, Peyton Manning, then Brock Osweiler, I would say you are nuts. Siemian has control of the team in practice and in the preseason continuing to keep pace with Sanchez and sees week one starter, as a real possibility.
We are all in agreement; Paxton Lynch will start at some point during this season. The argument remains; Lynch should start for the week on game against Carolina, mid-season or sit a year. After watching his play in practice, Lynch will be starting sooner than people think. He is just a little off than Sanchez and Siemian, but the minute more reps continue, the more confidence is going to grow in the young quarterback from Memphis.
At the end of the day, the Broncos will need to name a starter. It will be a battle to the last camp practice and the outcome could give the team better quarterback play, which was sorely lacking last year. The Broncos have a choice of a veteran who is remembered for arguably the worst play in NFL history, a quarterback that could be another baby face assassin or their future quarterback who has four different quarterback ceilings.
Next: Mark Sanchez