Denver Broncos training camp position battles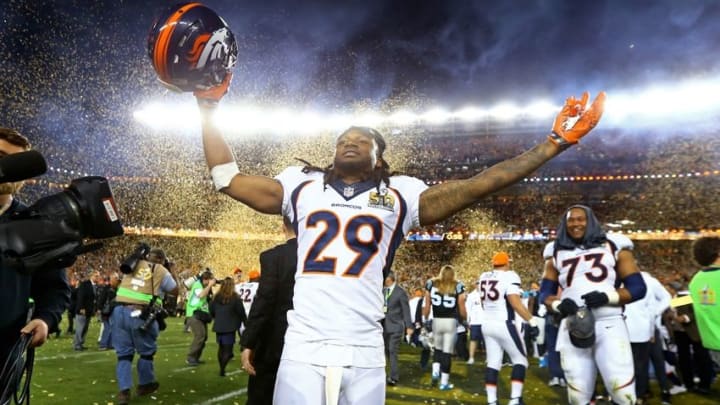 Feb 7, 2016; Santa Clara, CA, USA; Denver Broncos cornerback Bradley Roby (29) celebrates after defeating the Carolina Panthers in Super Bowl 50 at Levi /
Wide Receiver
Feb 7, 2016; Santa Clara, CA, USA; Denver Broncos wide receiver Demaryius Thomas (88) on the field before Super Bowl 50 against the Carolina Panthers at Levi /
The wide receiver position for the Broncos is yet again a strength, led by Pro Bowl receivers Demaryius Thomas and Emmanuel Sanders.
Thomas, in particular, is coming off of a down season. He was nothing like the DT we've all come to know and love over the last few years, despite catching over 100 balls. His effort seemed to be lacking, his focus didn't seem to be where it needed to be, and while Thomas still made plenty of plays, it felt like at times he was more of a liability out there on the field than the asset we'd come to know.
And all of this came after the Broncos essentially made him the centerpiece of the offense for years to come. Thomas was the Broncos' franchise player last season, and was re-signed to a huge five-year contract just before the franchise player deadline passed.
With his contract no longer an issue and the emotion of his mother being released from prison, it would have seemed on the surface like things couldn't have been better off the field for Thomas last year, but on the field, he was not the same guy.
Hopefully 2016 brings a renewed focus, because the Broncos are going to need him to step up in a big way with their quarterback situation and the way the offense performed last year. He needs to be better, and he knows it.
Feb 7, 2016; Santa Clara, CA, USA; Denver Broncos wide receiver Emmanuel Sanders (10) runs the ball against Carolina Panthers cornerback Robert McClain (27) during the third quarter in Super Bowl 50 at Levi /
Despite the struggles offensively, Emmanuel Sanders was excellent again last season, proving himself as a big play threat and one of the toughest players on the Broncos. Sanders posted his second straight season with over 1,000 receiving yards, and an average yards per reception of 14.9, the highest of his NFL career thus far.
Sanders was able to stretch the field for the Broncos, pick up big first downs, and come up with plays in the clutch when the Broncos needed him the most. He's emerged as one of the team's vocal leaders and someone that can be relied upon in any game, any situation.
As it turns out, Sanders is heading into the final year of his contract and the Broncos have reportedly had good negotiations with he and his agent about an extension. The market has been moving all over the league at the wide receiver position, so Sanders' contract should be relatively easy to hammer out if the Broncos want to make it happen sometime before training camp.
Behind Thomas and Sanders, the Broncos have a number of players who are a combination of uncertainty and big potential.
Feb 7, 2016; Santa Clara, CA, USA; Denver Broncos wide receiver Bennie Fowler (16) after scoring a two point conversion during the fourth quarter against the Carolina Panthers in Super Bowl 50 at Levi /
To me, the leader in the clubhouse for no. 3 receiver duties has to be Bennie Fowler, a former undrafted free agent in 2014 out of Michigan State who showed off big play ability last year in addition to catching the final pass of Peyton Manning's NFL career.
Fowler's contributions last season were few in terms of catching passes, but he took advantage with 11 first downs on 16 catches.
Competing with Fowler for the no. 3 receiver position will be Cody Latimer, who finally flashed some of his potential this past year, catching his first career touchdown pass. He still finished the year with just six catches, but did emerge as one of the team's core special teams aces.
The Broncos drafted him in the second round to be a big play threat in the passing game, so this will be a huge year for the third year player to make an impact on the offensive side of the ball and give the Broncos the threat they thought they drafted out of Indiana.
The Broncos have Jordan Norwood back this season, the player who set the Super Bowl record with his big punt return that helped turn momentum in a big way in the Broncos' favor.
Norwood proved capable of being an effective slot receiver at times last season, coming up with some tough catches. His value as a special teams player will earn him a roster spot in all likelihood, and he could see fewer snaps offensively as the young guys continue to emerge.
Aug 22, 2015; Houston, TX, USA; Denver Broncos wide receiver Jordan Taylor (87) warms up before a game against the Houston Texans at NRG Stadium. Mandatory Credit: Troy Taormina-USA TODAY Sports /
Jordan Taylor, an undrafted player in 2015, has been the topic of much discussion this offseason among the Broncos and their fans. He's a 6-5 receiver with phenomenal speed, hands, and quickness. He was Peyton Manning's personal rehab receiver this past year, and there's no doubt Manning has given plenty of endorsements for him over the course of the last year.
If Taylor doesn't make the final roster, I would be shocked.
The Broncos have a number of young receivers competing for spots in training camp, perhaps on the practice squad. Most notably are DeVier Posey — a former Houston Texans draft pick — and Oregon Ducks playmaker Bralon Addison, a rookie undrafted free agent. Mose Frazier, the top receiver of Paxton Lynch at Memphis, will also bear monitoring.
Durron Neal and Kalif Raymond round out the competition, and will have to make noise on special teams to generate any roster hype.