Denver Broncos training camp position battles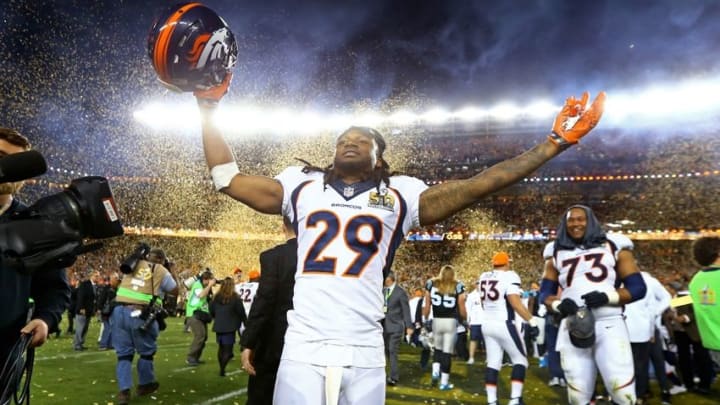 Feb 7, 2016; Santa Clara, CA, USA; Denver Broncos cornerback Bradley Roby (29) celebrates after defeating the Carolina Panthers in Super Bowl 50 at Levi /
Defensive Front Seven
In 2015, the No-Fly-Zone had the catchy nickname, and got lots of credit in contributing to what turned into a historical defense.  But, for every No-Fly-Zone, or Legion of Boom, or any great secondary, you will typically find a dominant front 7 guys that shorten the time the secondary needs to lock down.  The Broncos were no different, and should be excellent there again in 2016.  However, this has been an area of the roster that has experienced some turnover from a year ago, providing some interesting battles to look forward to during camp.  
Jan 24, 2016; Denver, CO, USA; Denver Broncos linebacker Brandon Marshall (54) against the New England Patriots in the AFC Championship football game at Sports Authority Field at Mile High. The Broncos defeated the Patriots 20-18 to advance to the Super Bowl. Mandatory Credit: Mark J. Rebilas-USA TODAY Sports /
With Brandon Marshall moving into Danny Trevathan's spot in the defense, it will open up an open up Marshall's old ILB spot for one of the younger guys.  During OTA's, defensive coordinator Wade Phillips opened up about replacing Trevathan:
"We've got three guys that really played a lot last year at the inside backer position with [ILB] Todd [Davis] and [ILB] Corey [Nelson]. They [were] backups, but they played a lot. Either one of those guys can step in. Todd is in there right now. I think he's doing a great job, as Corey is. Then [ILB] Zaire [Anderson] is coming along. We've got some strength in there. Those positions, those are guys that make plays for us. Both of our inside backers had over 100 tackles. It's a big position to fill certainly, but it's also one that I think we have some guys that can certainly help there."
Davis certainly seems like the man that will end up taking that starting job, but expect Nelson and Anderson to both see the field this season, as both appear more than capable of pushing Todd for that starting role.  Nelson is very fast, which was a trait that Trevathan and Marshall both possessed, allowing each of them to cover lots of ground in the middle of the field very quickly.  This will certainly be something that the coaches will be looking at, and if Nelson can be consistent in tackling, and physical enough in the running game, he could end up snatching that starting job right away.
Zaire Anderson is the dark horse in this race, as he was a practice squad player a year ago after going undrafted out of Nebraska.  Anderson turned a lot of heads during training camp a year ago; while his speed is not as head turning as a Trevathan, Anderson was consistently in the play last year, as he had a real nose for the ball, and proved to be an extremely sound tackler.  Trevathan was about as sure a tackler as there was, so having someone who is always in the play, and doesn't miss could be something that will make it hard for the coaching staff to keep this young man off the field.  Keep in mind, it was just a few years ago that Brandon Marshall was waived from Jacksonville, and placed on the Broncos practice squad.  The Broncos have a history of developing these guys, and turning them into bona fide NFL starters.  Anderson could be the next Broncos success story at LB.
Feb 7, 2016; Santa Clara, CA, USA; Denver Broncos outside linebacker Von Miller (58) strips the ball from Carolina Panthers quarterback Cam Newton (1) in Super Bowl 50 at Levi /
There is one OLB spots that there will be no battle for, and that spot belongs to the reigning Super Bowl MVP Von Miller, provided the Broncos and Miller can come to an agreement on a new contract, as Miller has threatened to forego the 2016 season if he doesn't get the long term deal he desires.  However, provided this gets done, and Mr. Elway does have a history of getting these type of deals done at the last possible second, Miller will solidify one of the two OLB spots.  The other starting spot, on paper, will belong to Demarcus Ware.  however, the Broncos have been adamant that Ware will enjoy a more limited role this season, as he will turn 34 years old right as camp is getting underway, and has already experienced trouble with his back that kept him out multiple games a year ago.  
Ware should have more of a Dwight Freeney role from a year ago; he'll be a guy that will come in on 3rd down with one goal, and one goal only; hit the quarterback.  What this role will do is open up a lot more playing time on 1st and 2nd down for two guys, Shane Ray, and Shaq Barrett.  As I stated a week ago, the guy that figures to really take his game to the next level will be former first round draft pick Shane Ray.  Wade Phillips feels this way as well:
"We know he's got talent. Being able to utilize it—we gave him the same thing. We gave him things that we felt like he could do to get better. His attitude has been tremendous, and I think that's a real key for him. When you come in and you're a first-round pick, and you've got [OLB] DeMarcus Ware and Von Miller playing out there in front of you, and you're not the starter, I think it's a little tougher mentally. But he's come through that with shining colors and I think he's ready to step up his game."
Ray is an enormous talent, and with extended playing time this year should really be able to get after the quarterback.  The area where he really looks to improve on is his discipline in the run game, and after spending a year watching Ware and Miller be downright dominant in every aspect, Ray should be ready to take that next step, and play at or close to a Pro Bowl level.  
Shaq Barrett will also see the field plenty, and will do everything he can to push himself ahead of Ray on the depth chart.  Even if he doesn't edge out Ray, Phillips likes his OLB's to rotate plenty, and isn't shy about keeping a guy like Miller or Ware off the field, even during crunch time.  Barrett will most likely be on the field anytime that Von isn't out there, and  it should provide him with ample opportunity to show exactly what he can do with even more extended minutes than a year ago.  This will be a fun position to watch, not only in camp, but throughout the entire 2016 campaign.  
This position, just as it was a year ago, is a rotating door, as Wade Phillips really likes to take full advantage of the depth he has along the defensive line and rotate guys constantly.  However, there are always guys that will still be there more than others, and a year ago, those two players were Derek Wolfe, and Malik Jackson.  Wolfe is back on a very team friendly extension he signed at the end of the 2015 season, and Malik is catching some sun down in Jacksonville, with a shiny, albeit, very expensive new contract.  While he will be missed, the Broncos have plenty of candidates to fill the void.  Jared Crick will be the guy with the first opportunity to fill that void.  Crick was drafted under the Kubiak/Phillips regime in Houston, and is only 26 years old.  He is an underrated defender, and while he probably doesn't possess the natural ability that Malik had, he is a tough defender who is strong against the run, and can get after the quarterback at times as well.  
Feb 7, 2016; Santa Clara, CA, USA; Denver Broncos defensive end Derek Wolfe (95) reacts after a play during the third quarter against the Carolina Panthers in Super Bowl 50 at Levi /
The two players that I am looking forward to watching push Crick, and perhaps overtake him at some point will be Adam Gotsis, and Kenny Anunike.  Gotsis is coming off a serious knee issue, but during his time during at Georgia Tech, as he learned the game after coming over from Australia, he looked an awful lot like Derek Wolfe, an extremely physical defender with a limitless motor, who can be dominant in both the run game and rushing the passer.  There is a chance he doesn't contribute much this season, as he missed all of OTA's with that knee injury, and will take time as a guy who hasn't played all that much football in his life.  The guy that is ready to roll this year, provided he can stay healthy will be Kenny Anunike.  
Anunike has a very thin build to play on the line, and could probably line up at OLB with ease.  However, he is a very gifted athlete that flashed amazing potential during camp last year until he was sidelined with a knee injury.  If healthy, I expect Anunike to turn a lot more heads during camp this year, and possibly beat out Crick for the starting job.  He could be a mainstay in the rotation this year, and that is great news for Wade Phillips, who loves the options.  Vance Walker, who was very underrated a year ago will be back, and getting a lot of burn at this position as well.  It should be a very fun year to watch the DE's, and with some luck, Broncos Country may forget all about that guy Malik.  We all wish him the best and hope that watching the playoffs from the couch is worth it for him in that warm Florida weather.  
Oct 4, 2015; Denver, CO, USA; Denver Broncos nose tackle Sylvester Williams (92) celebrates after sacking Minnesota Vikings quarterback Teddy Bridgewater (not pictured) during the second half at Sports Authority Field at Mile High. The Broncos won 23-20. Mandatory Credit: Chris Humphreys-USA TODAY Sports /
The last position battle in the front 7 is the nose tackle position.  This should be a two man race between starter Sylvester Williams, and second year man Darius Kilgo.  Kilgo got some burn at the position as a rookie, and was able to make some plays, but this is really Williams job to lose.  It will be interesting however as Williams is entering the final year of his rookie contract.  The Broncos declined his fifth year option, meaning they may not be 100% sold on Williams as the future, and will probably want to see a little more of Kilgo.  Williams claims that he is glad that the Broncos declined his option, because he'll be a free agent sooner.  This is a contract year, so if he is as motivated as he claims, it could be very good for the Broncos this season.  It will be a position to watch during camp, but most likely be Williams playing the majority of the snaps, with Kilgo spelling him and giving the Broncos a look at his potential.
Next: Next