Denver Broncos 10 most important players for repeat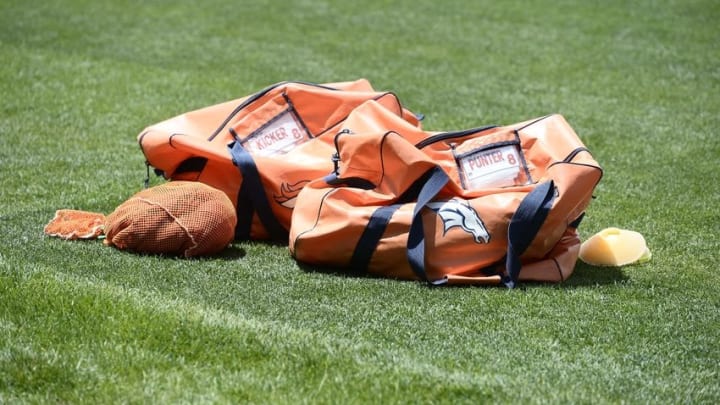 Jun 7, 2016; Englewood, CO, USA; Denver Broncos Demaryius Thomas (88) following mini camp drills at the UCHealth Training Center. Mandatory Credit: Ron Chenoy-USA TODAY Sports /
Can the Denver Broncos repeat as Super Bowl champions? Despite a lot of roster turnover, this is still a great team. Here are the 10 most critical players…
The NFL has moved on from the Denver Broncos incredible Super Bowl run, and the way they did it. As much respect as Super Bowl champions are often given, the Broncos were a bit of an unconventional champion.
They defied the logic that you win championships through building strictly through the draft with free agency as a supplement. John Elway has signed more players who have gone to the Pro Bowl as free agents than any other general manager in the league since 2011.
Oct 18, 2015; Cleveland, OH, USA; Denver Broncos kicker Brandon McManus (8) kicks the game-winning field goal out of the hold of punter Britton Colquitt (4) in overtime against the Cleveland Browns at FirstEnergy Stadium. Denver defeated Cleveland 26-23. Mandatory Credit: James Lang-USA TODAY Sports /
The Broncos also set an NFL record in 2015 for games won by a touchdown or less.
As often as us fans slammed the coaching staff for a conservative approach, it's tough to argue with the results, even if it came at the expense of healthy blood pressure.
The Broncos had a roster in 2015 that was comprised of a lot of great players from John Elway's best draft as a GM — the class of 2012 — and a number of players on short-term contracts. As a result, the Broncos lost more players to free agency/retirement this offseason than any other team in the league and a ton of roster turnover.
I don't want anyone to think that this post is to highlight the fact that football is not about the best 53-man roster in the league, along with the best 10-man practice squad. Football is the ultimate team sport as the Broncos proved last season, winning in a variety of ways, but there are some players on this year's Broncos team that I think are going to be absolutely critical to their success.
In fact, I think these 10 players could prove to be the most critical as the Broncos try and repeat as Super Bowl champions. This isn't necessarily a list of the 10 best players on the Broncos, or at least in my opinion it isn't. Here are the guys I think can be the most impactful toward a Super Bowl repeat…
Next: Next