Top 5 Denver Broncos Games to Look Forward to in 2016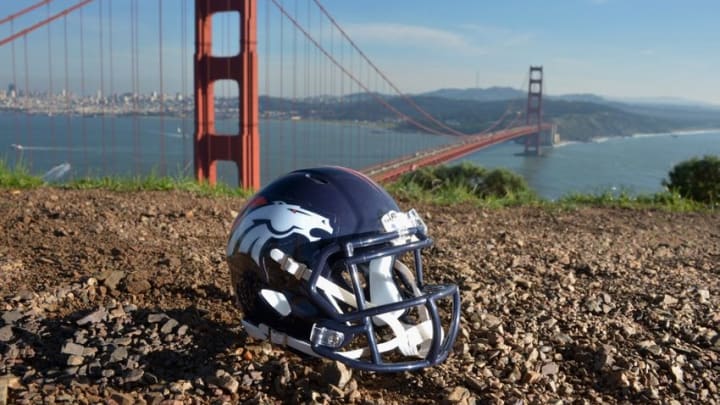 Feb 5, 2016; San Francisco, CA, USA; General view of Denver Broncos helmet prior to the Super Bowl 50 at the Golden Gate bridge. Mandatory Credit: Kirby Lee-USA TODAY Sports /
Feb 5, 2016; San Francisco, CA, USA; General view of Denver Broncos helmet prior to the Super Bowl 50 at the Golden Gate bridge. Mandatory Credit: Kirby Lee-USA TODAY Sports /
Broncos Offseason: With the Denver Broncos kicking off the regular season against the Carolina Panthers in three months, I choose five games that I will be looking forward to in 2016.
We are getting closer to the 2016 NFL season. The Denver Broncos kick off the 2016 season as the defending Super Bowl Champions against the Carolina Panthers. To this day, I still find it odd to begin the season the way it ended.
The one thing that probably would have been better was to play the Panthers later on in the season. But I do not control the schedule.
Looking at the schedule, there are a lot of interesting games on the slate. For those of you that have been living under a rock, the opponents that the the Broncos will be facing will be coming from the AFC and NFC South, Divisional Opponents, then the Cincinnati Bengals (AFC North Winner) and the New England Patriots (AFC East Winner)
In my opinion, a lot of the home games intrigue me. I know as a fan I want to see if I can make it to one of the games the Broncos playing at home. Being on the East Coast, the closest that the Broncos will be is Cincinnati, which is still a long drive for me.
With so many intriguing games, it will be difficult to pick just five of them. However, I am going to choose five games that I am looking forward to in 2016.
As an honorable mention, I have decided on the Broncos vs. Chargers game on Thursday Night in Week 6. The only reason I have picked that game was due to the potential of having the color rush jerseys. I'm intrigued if they get one and what it would look like.
Now, onto the five games that I am looking forward to.
Next: No. 5 Game